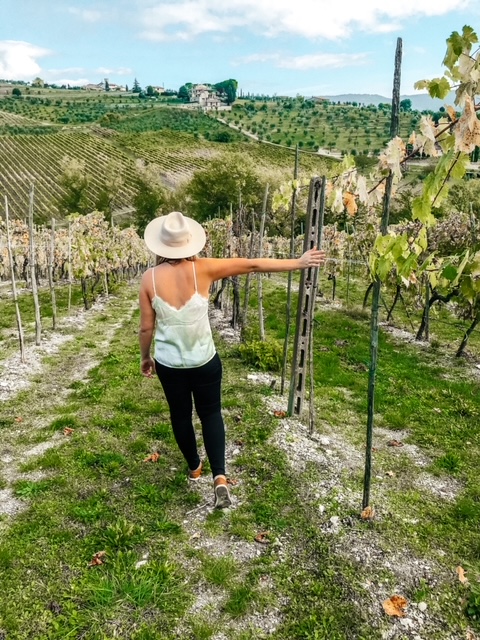 I'm so excited to get around to this travel guide finally! When tossing around ideas for our honeymoon Luke and I both knew we personally didn't want to do a beach getaway (nothing wrong with it but we knew we were going to have one a few months after our honeymoon). Tuscany almost instantly came to mind for me because it's always been a bucket list place for me. Something about being cozied up in a Tuscan farmhouse just seemed so relaxing and ideal. When you picture Tuscany, rolling green hills, old cobblestone streets and delicious wine and food come to mind. While all of this true it's definitely important to keep in mind Tuscany is a region of Italy and it's HUGE. It includes small hilltop towns to the major city of Florence. 
WHERE WE STAYED 
We ended up booking an Air B&B in Lecchi in Chianti, Tuscany at the cutest farmhouse. And y'all it was a complete dream. The house itself  was filled with Tuscan charm and  it had the best views. We truly felt like we were in a movie. We also loved this house because of the great outdoor patio it offered. This Air B & B is also walking distance to the market/restaurant which was amazing. Luke and I actually were shocked at how affordable it was too, we literally paid more for our tiny house in Asheville. We recently viewed the farmhouse on Air B &B again and it now has a pool for the warmer months! See below to see the view from the farm house.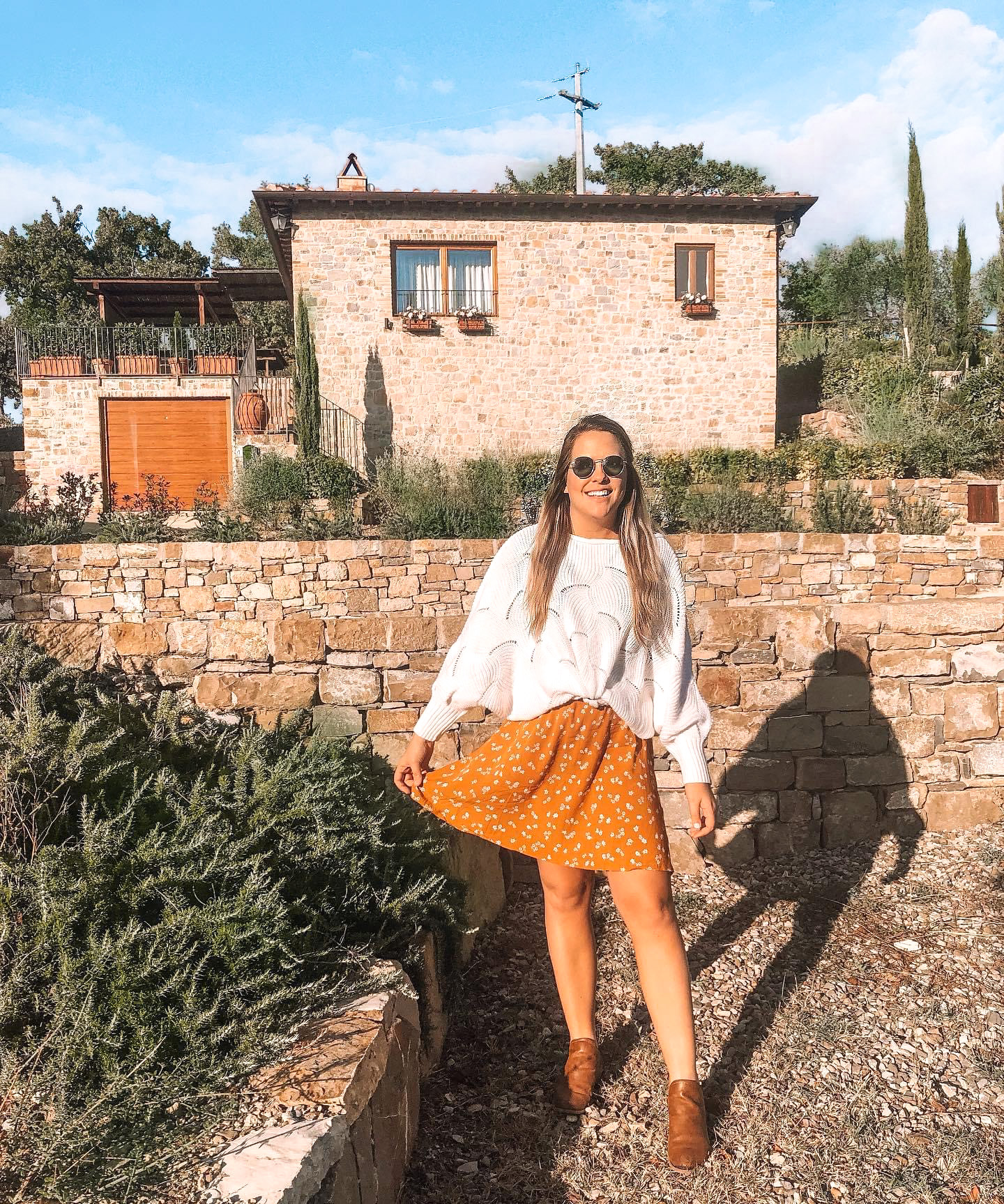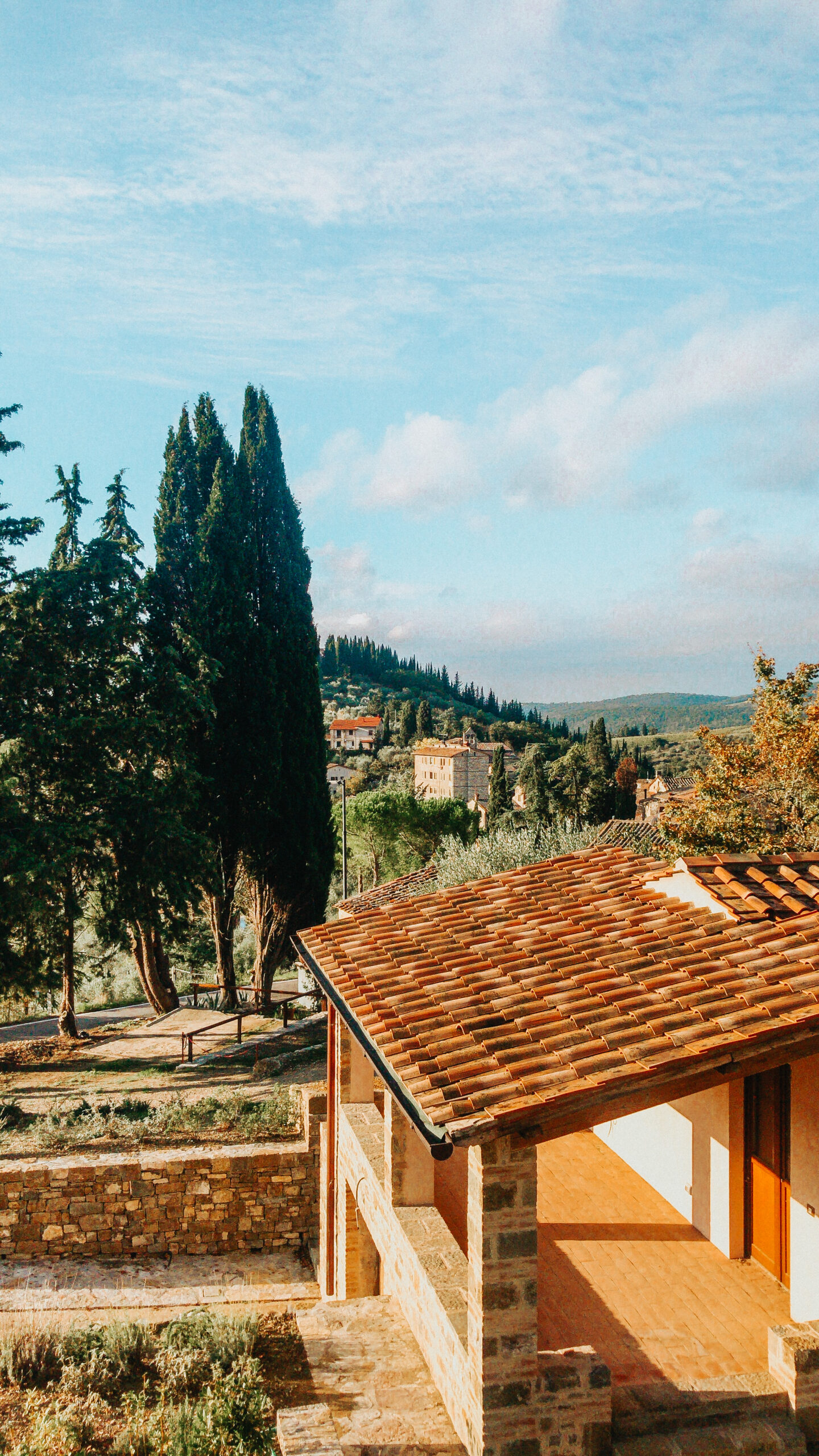 Lecchi in Chianti is super small but oh so magical. It basically has one main "street" but it's lined with stone houses and buildings. There was a small market/cafe that was walking distance from our place. Lecchi also has one of the TOP RATED restaurants in the entire region and we ended up eating dinner there three nights in a row! We wanted to stay somewhere that we considered central to the other places we wanted to explore and close enough to Siena where wed eventually be catching the train to our next spot.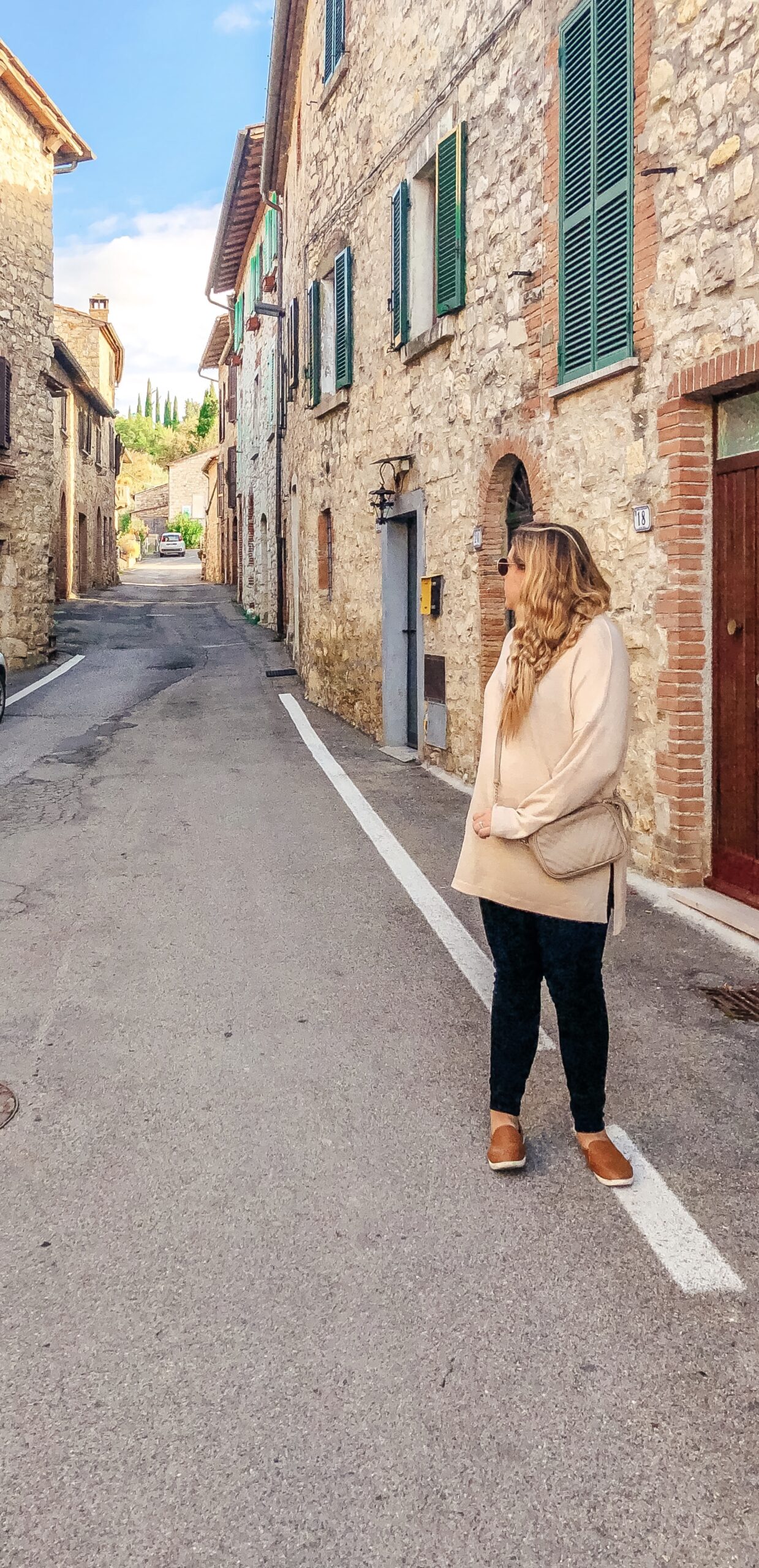 WHAT TO DO – DAY TRIPS
Radda in Chianti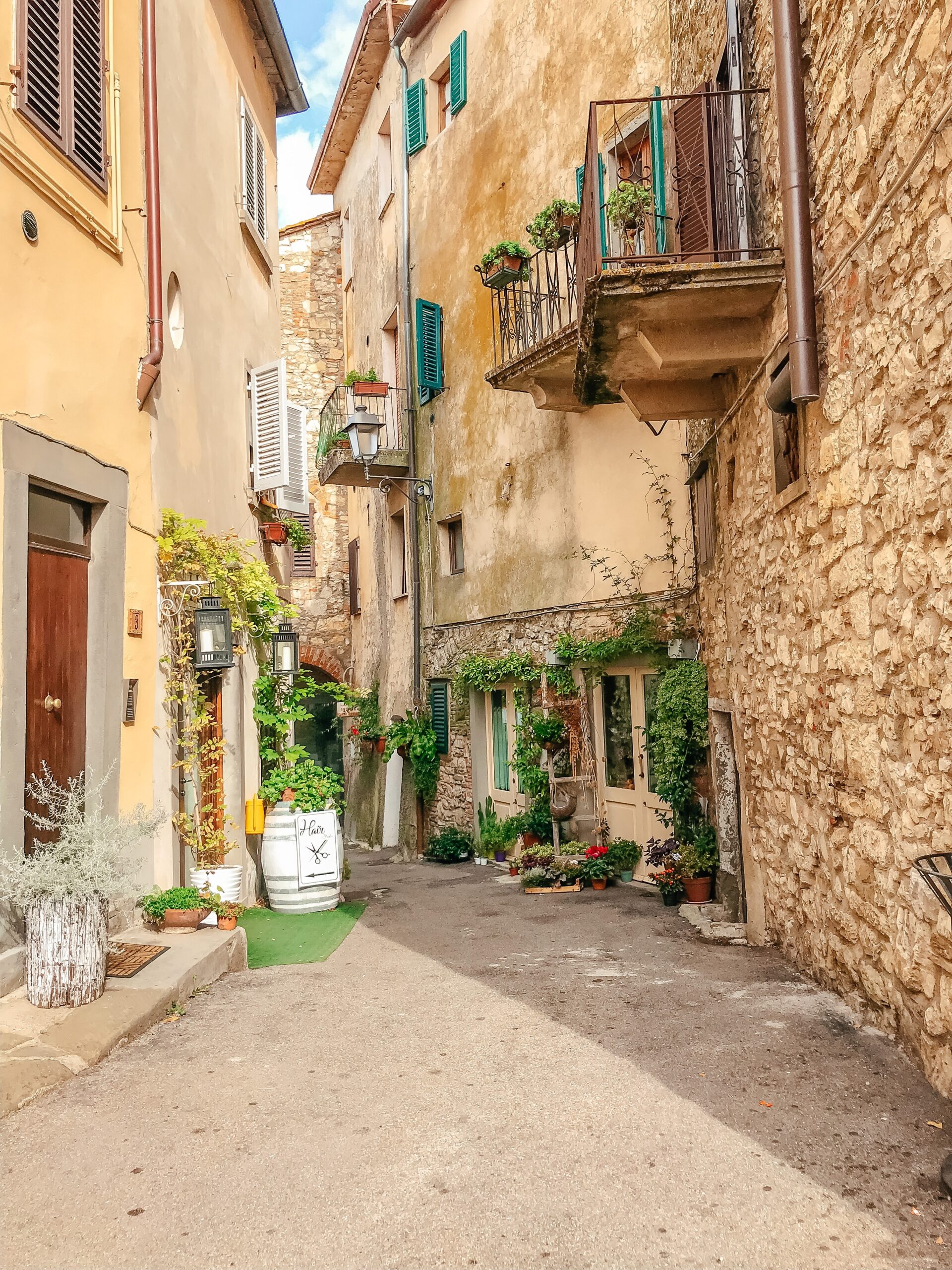 Radda is only a quick drive away from Lecchi and I highly recommend it! It's a medieval village famous for it's olive oils and where we grabbed lunch one day. It has a bunch of small shops also with local crafts for sale that we ventured into before heading to the wine tasting and vineyard tour we booked outside the city. 
Frattatoria Monte Maggio Winery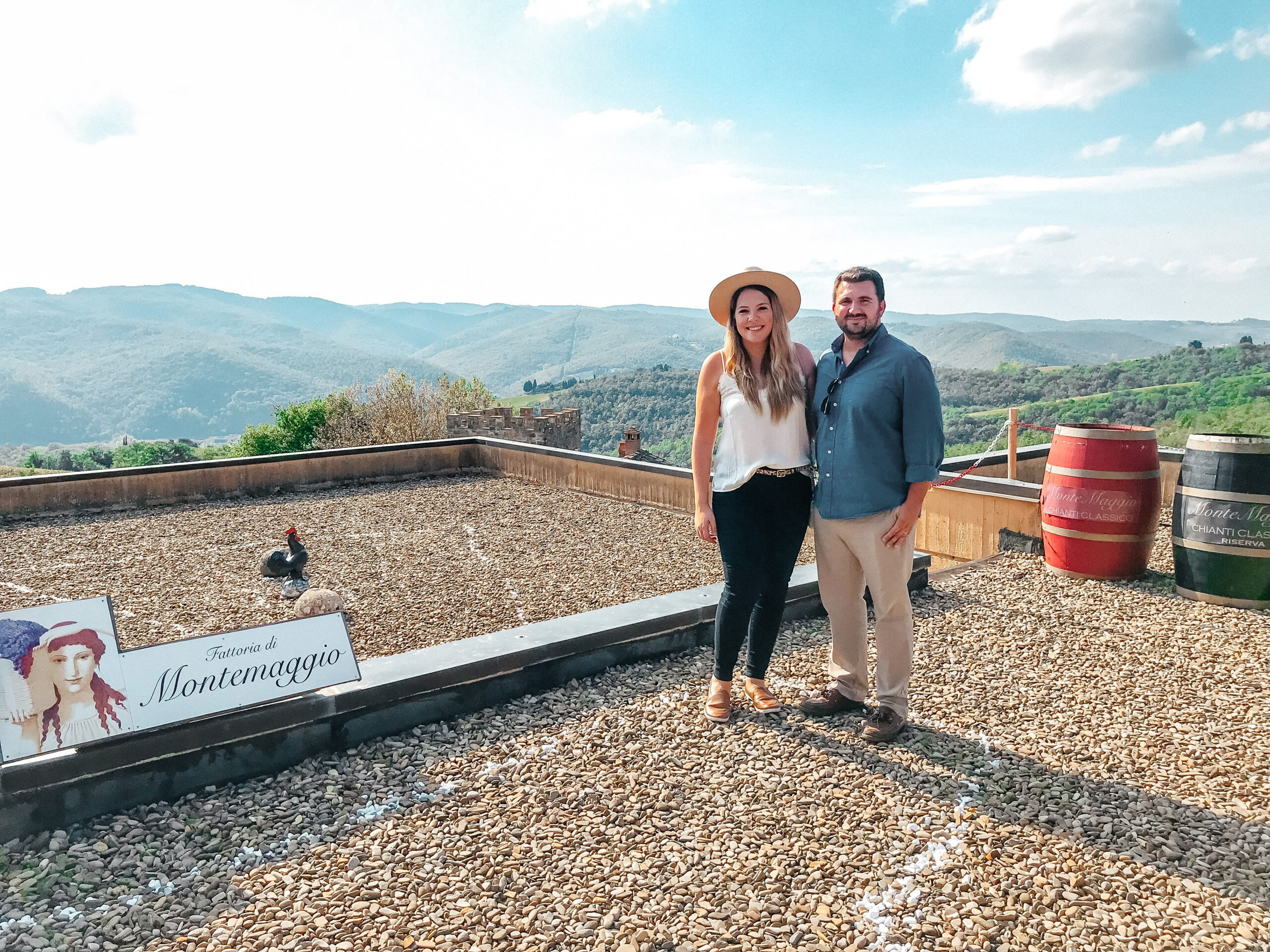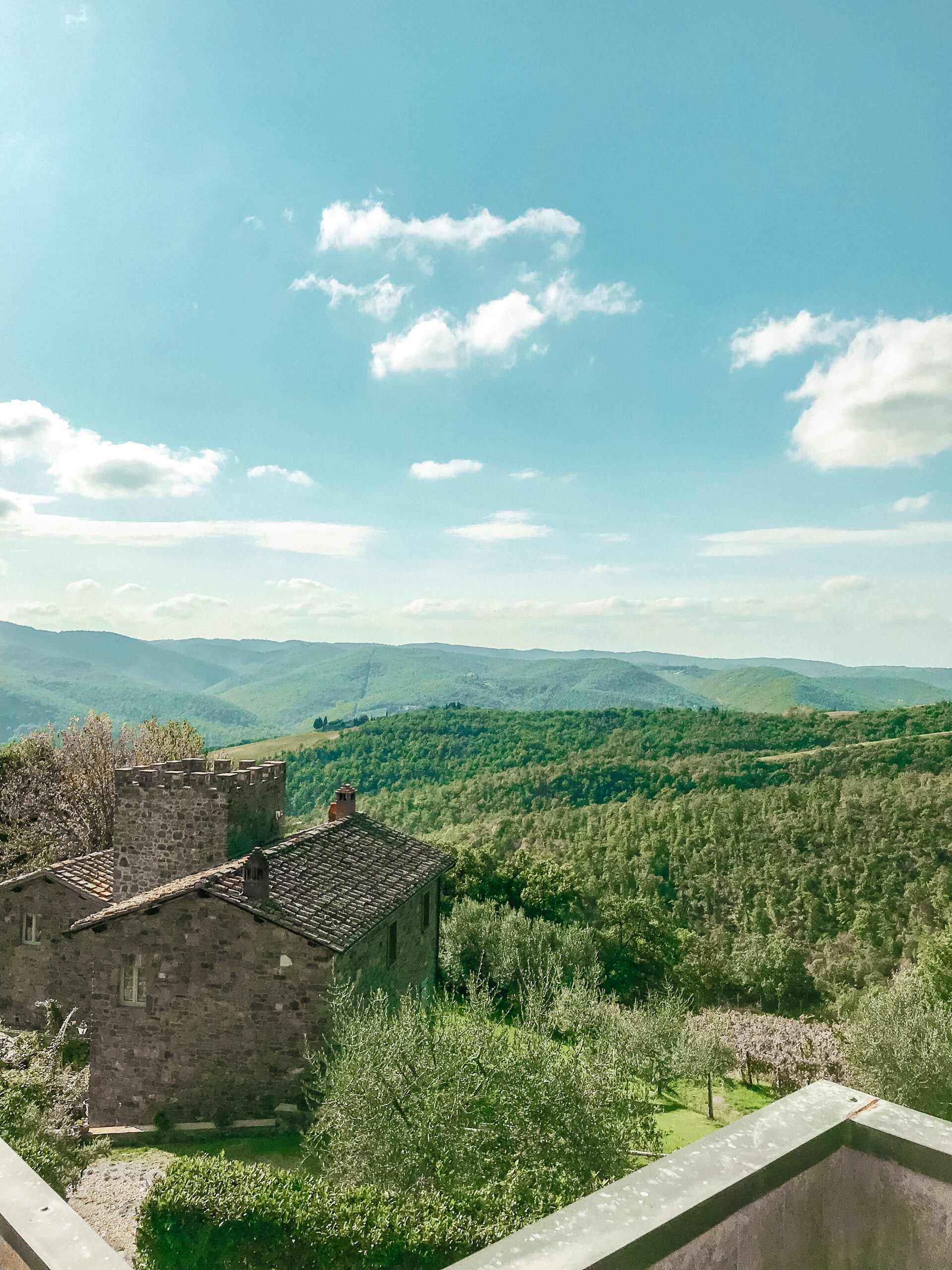 We booked this on a whim and it ended up being a great experience! It's a small organic family run winery located in Radda in Chianti off the beaten track. We had signed up for a tour that was going to have a group of Italians too but we ended up having  a private one because they wanted to be able to host us in english ha! Our tour took us through gardens, a vineyard, cellar and winery. We then sat down for a wine tasting where we were given small snacks and learned about each wine as we tasted. They also led us up the roof which was a great photo op with stunning views. If you are looking for a boutique winery with beautiful hillside views experience then this is your place! 
Siena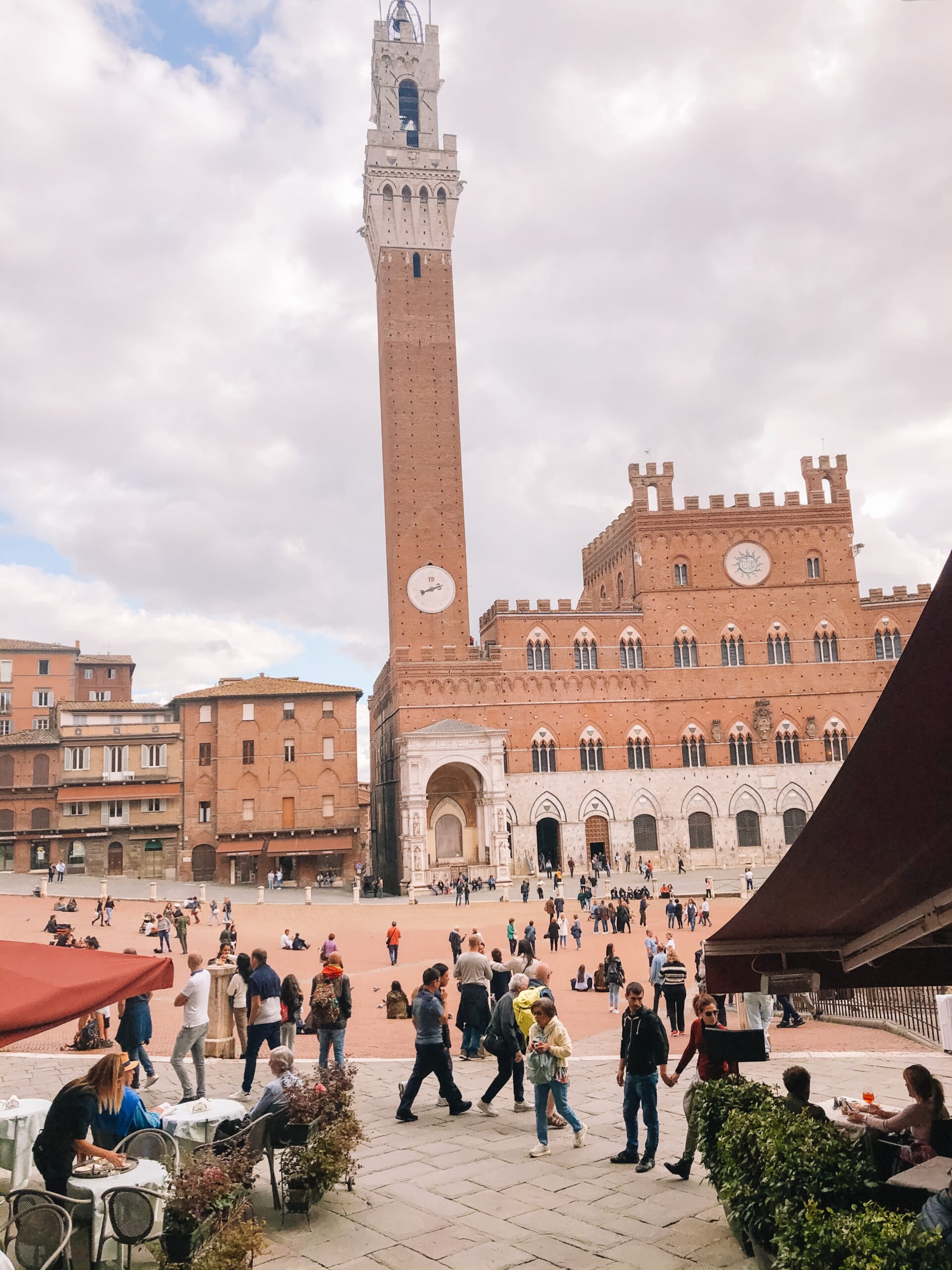 We actually took the train from Cinque Terre to Siena to get a rental car to drive around Tuscany. If you want to be central to a lot of places and want a more lively vibe then Siena may be the place for you to stay. Siena is a medieval city that has a huge shell-shaped square that is pretty well known through out Europe. We just ended up walking through the winding narrow streets, popping in and out of shops and then we got a pizza and gelato! Siena is much smaller than Florence but still worth a stop. Fun fact if you're a Twilight fan, they filmed scenes in Siena.
Montepulicano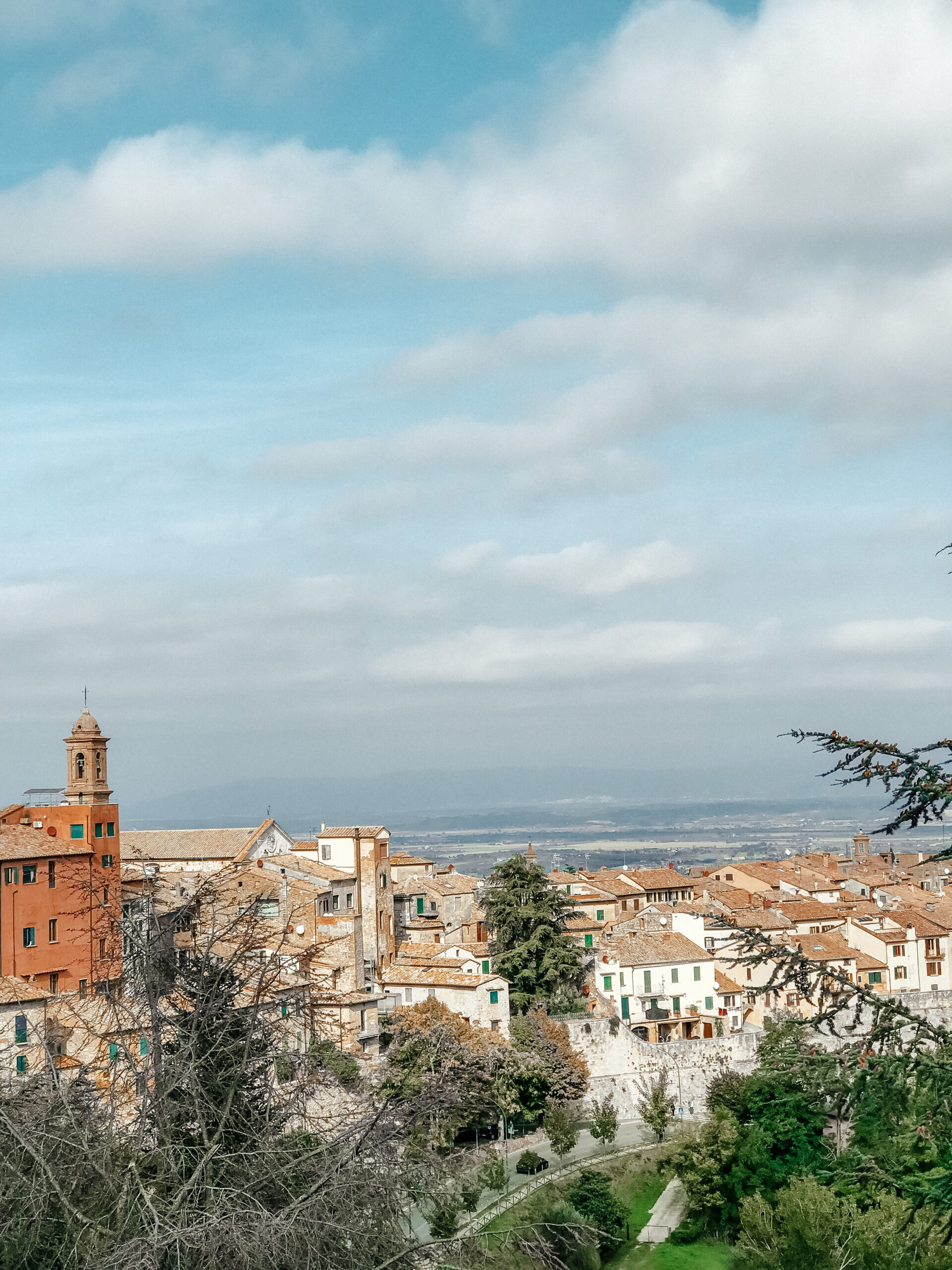 This is a medieval Tuscan hilltop town that I had come across when researching Italy. We actually didn't really plan on going here but realized how close it was to where we were staying and heading there one morning. This little town wasn't so quiet as you'd think for being kind of isolated. It was a slight struggle trying to figure out where to park but we figured it out eventually. Definitely one to add when in the region to stop by. They have lots of food and drinks around and is very picturesque. 
San Quirico D'Orcia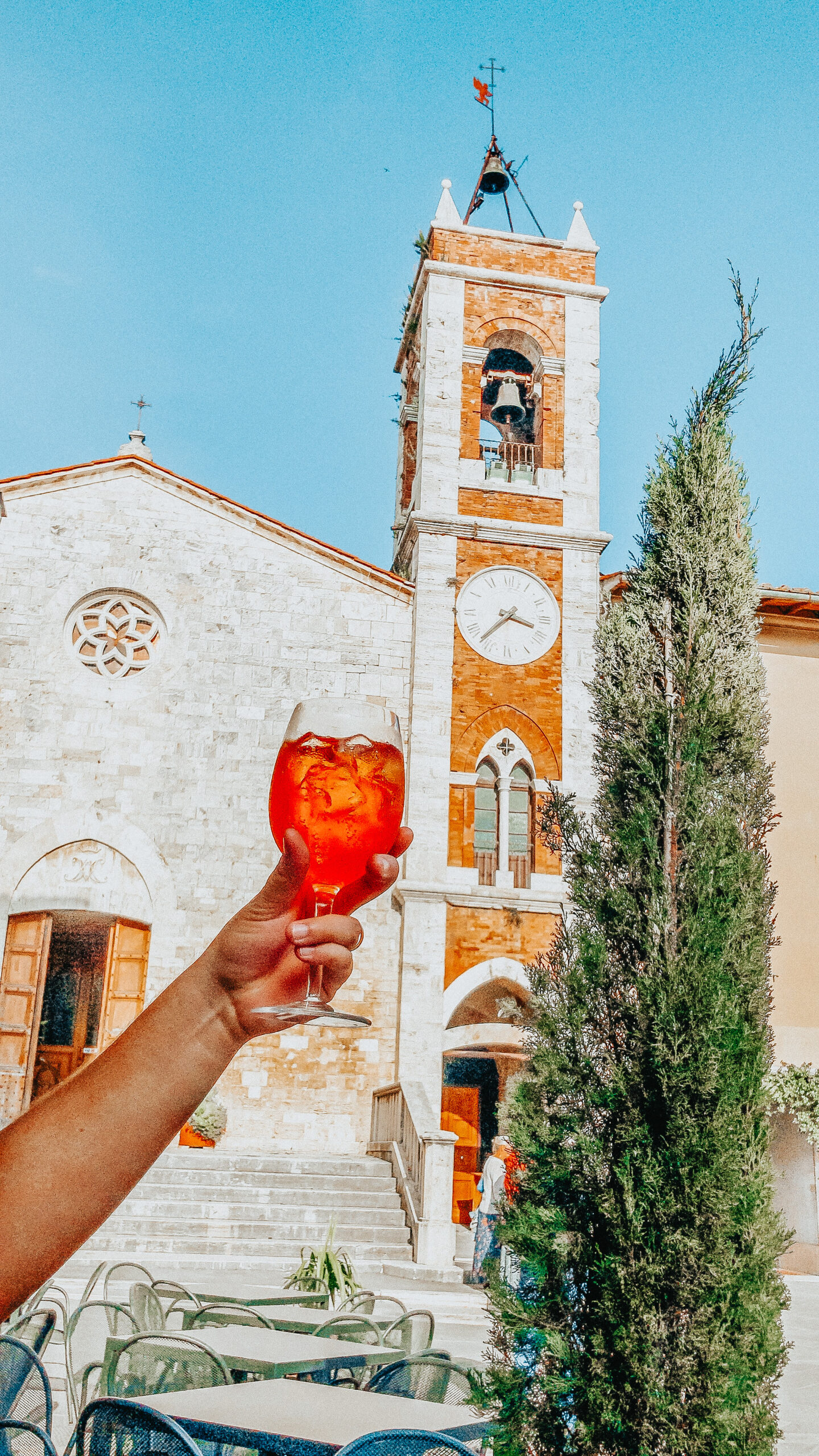 San Quirico D'orcia is in Val d'Orcia halfway between Pienza and Montalcino. We had never heard of it but saw a sign while driving and decided to stop in! Most of it's fortified walls are actually still standing, so you must leave the car outside the city walls. It is a tiny tiny town but has a beautiful church from the 8th century, a giant Italian garden which we walked around in and of course an array of places that offer some eats. We sat in a mini piazza it seemed like next to the church and ordered some drinks and it was so peaceful. This is the kind of place that tourists miss I feel like but I would highly recommend! 
WHERE TO EAT
*Once again, since we ended up eating at the same place three nights in a row my list of suggestions is limited*
We ate here three times for dinner and have no regrets! Literally everything we had was amazing and the building itself is beyond cute. I mean look at the bells! Simone Muricci opened it 1999, after a careful restoration of the barn of the adjacent Church of Saint Martin. He was honestly half the fun of dining there and you could tell he really cared about the food and everyone's experience. He also would give us wine recommendations and had prosecco waiting at our table on the last night! If I had to choose one thing to recommend I would probably choose the gorgonzola and pear ravioli but everything is outstanding.
This was where we stopped for lunch in Radda in Chianti. We ordered a few different kinds of bruschetta and of course some fresh pasta. We sat on a little patio across from the main building (I think that's what it was) and it was enjoyable. We got the vibe that this a local hangout for wine too!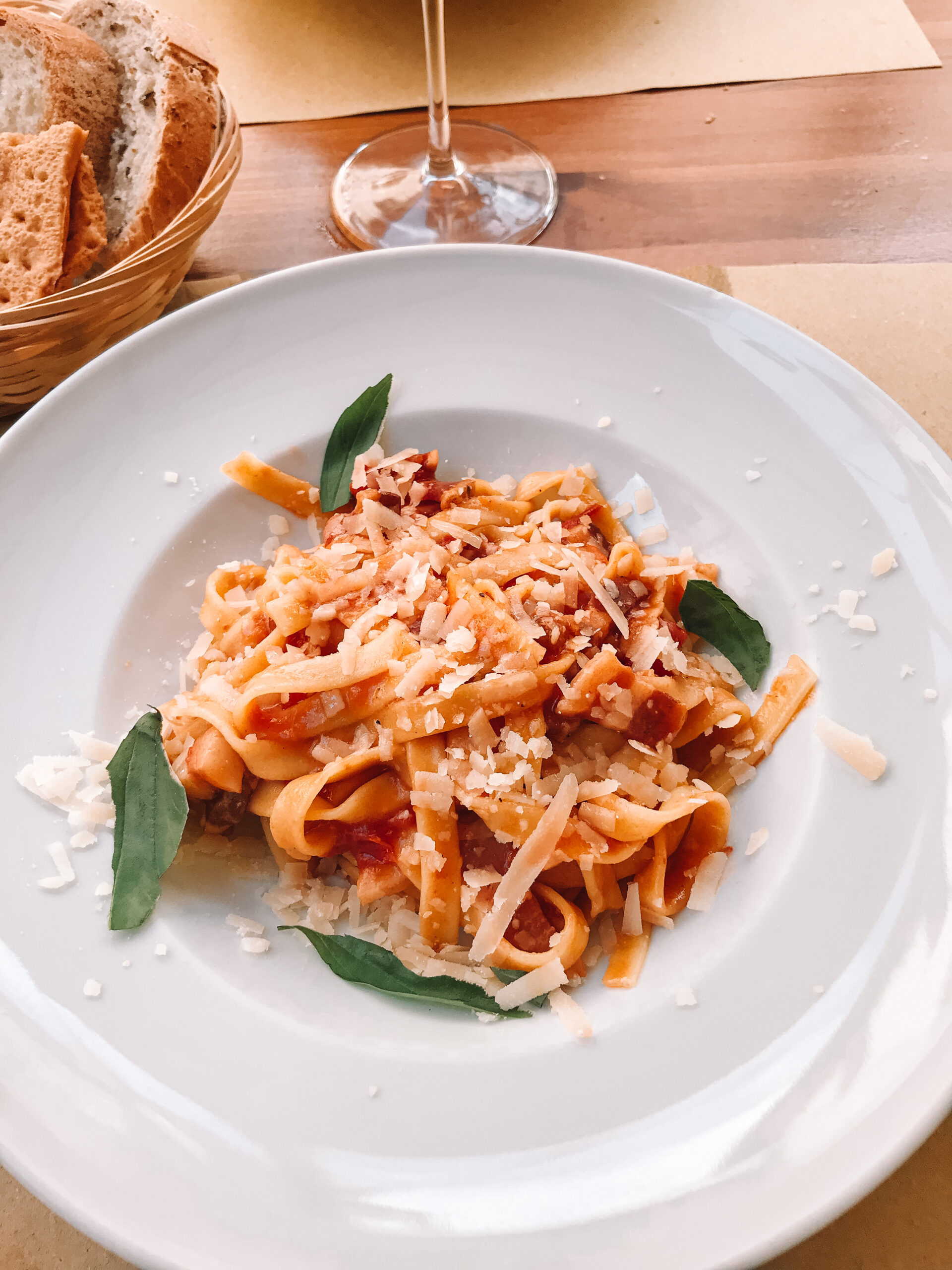 Enoteca Rinaldi
I couldn't find a website for them but this is the market/wine bar that was walking distance from our rented farm house. We loved grabbing drinks here in the early evening and cappuccinos and croissants in the mornings. We also got a few bottles of wine from the small grocery next door which is also owned by Paolo I believe. Talk about a perfect set up!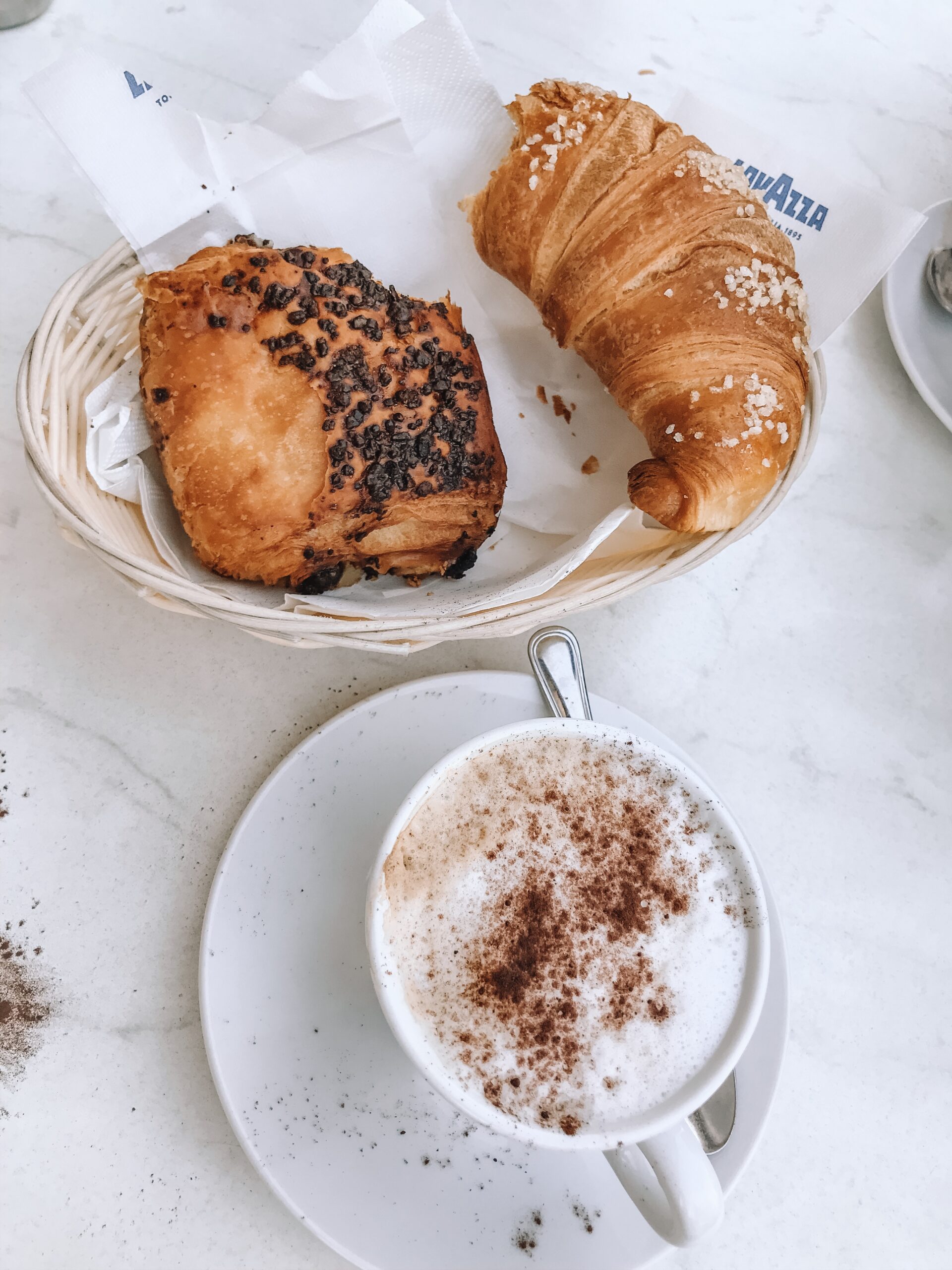 This place was in Montepulciano! We stopped here for coffee and the most amazing pie. It was chocolate and pear and I honestly wasn't sure of it from just the sound of the combo but man was I wrong. It was one of my favorite things I ate in Italy I think! It also has a insane view with a balcony. 
I hope I provided some good suggestions and inspiration for those of you who want to travel to Tuscany one day. Remember to pack a good adapter because clearly mine didn't work and I ended up with crazy hair the whole trip!