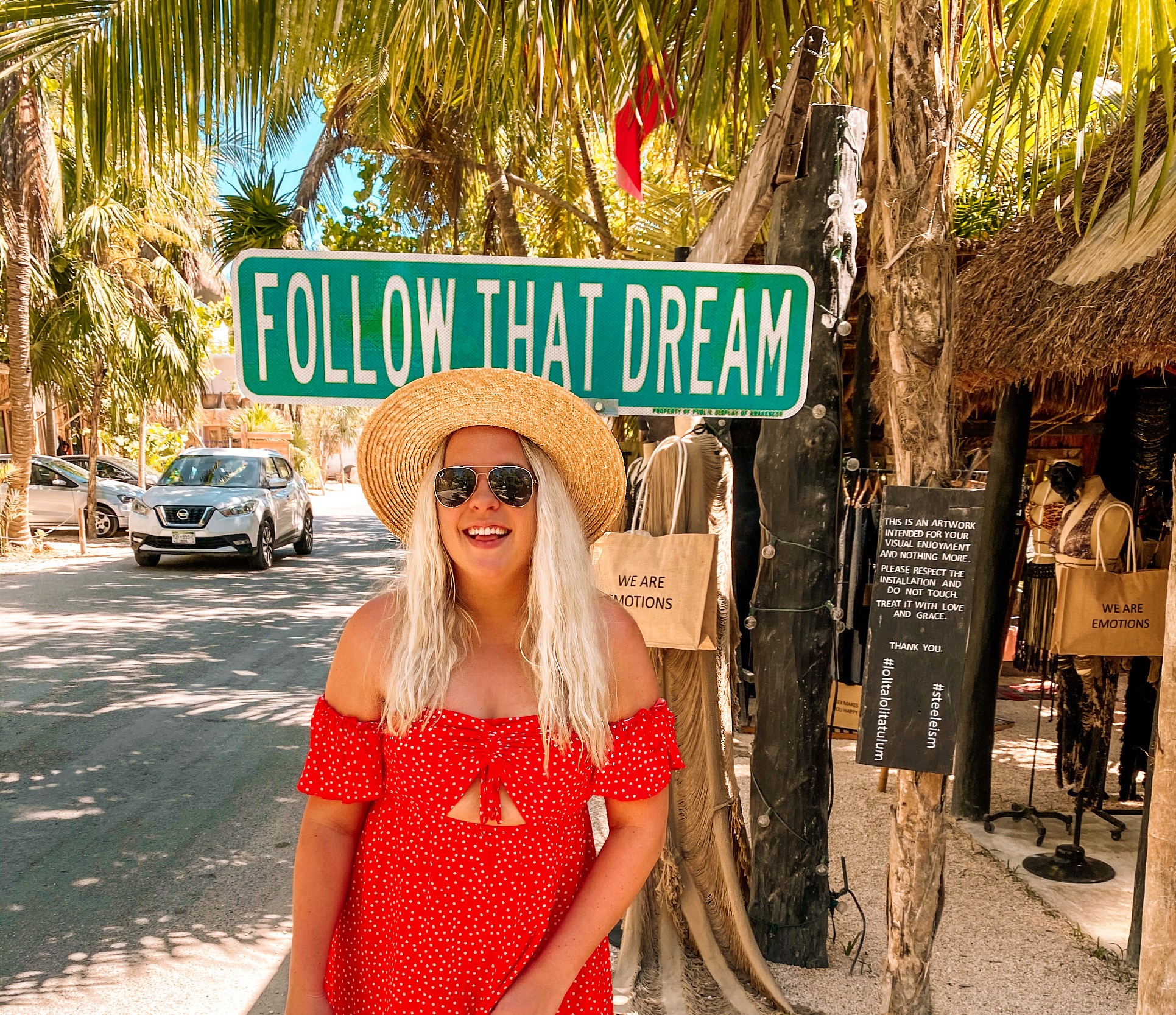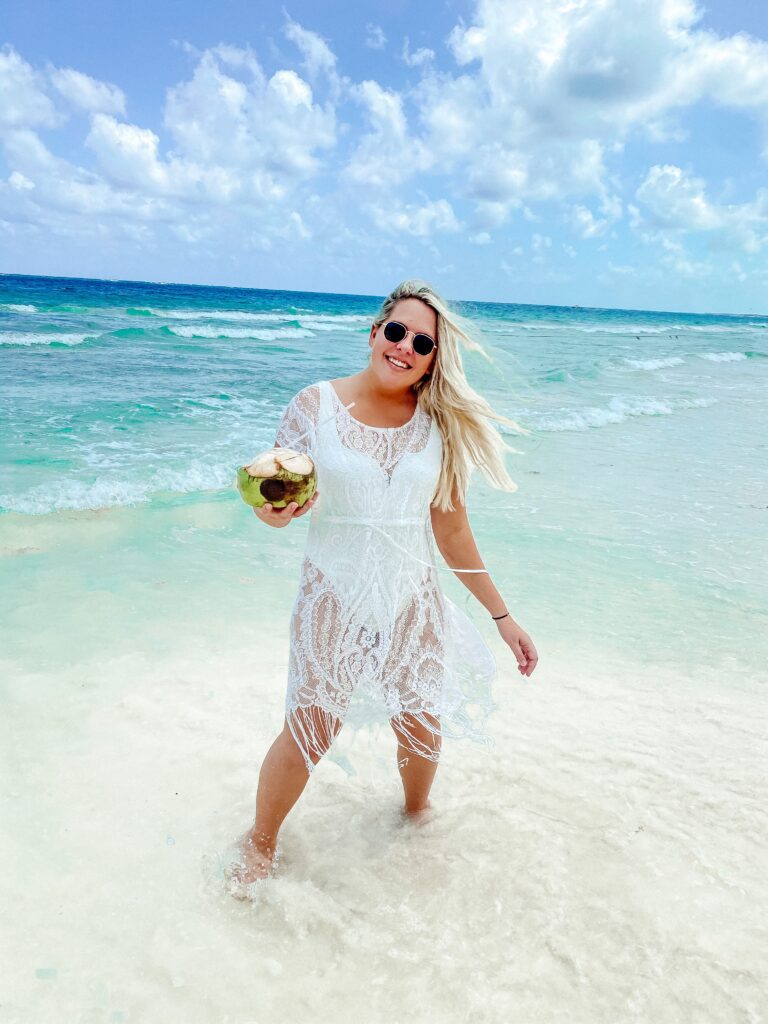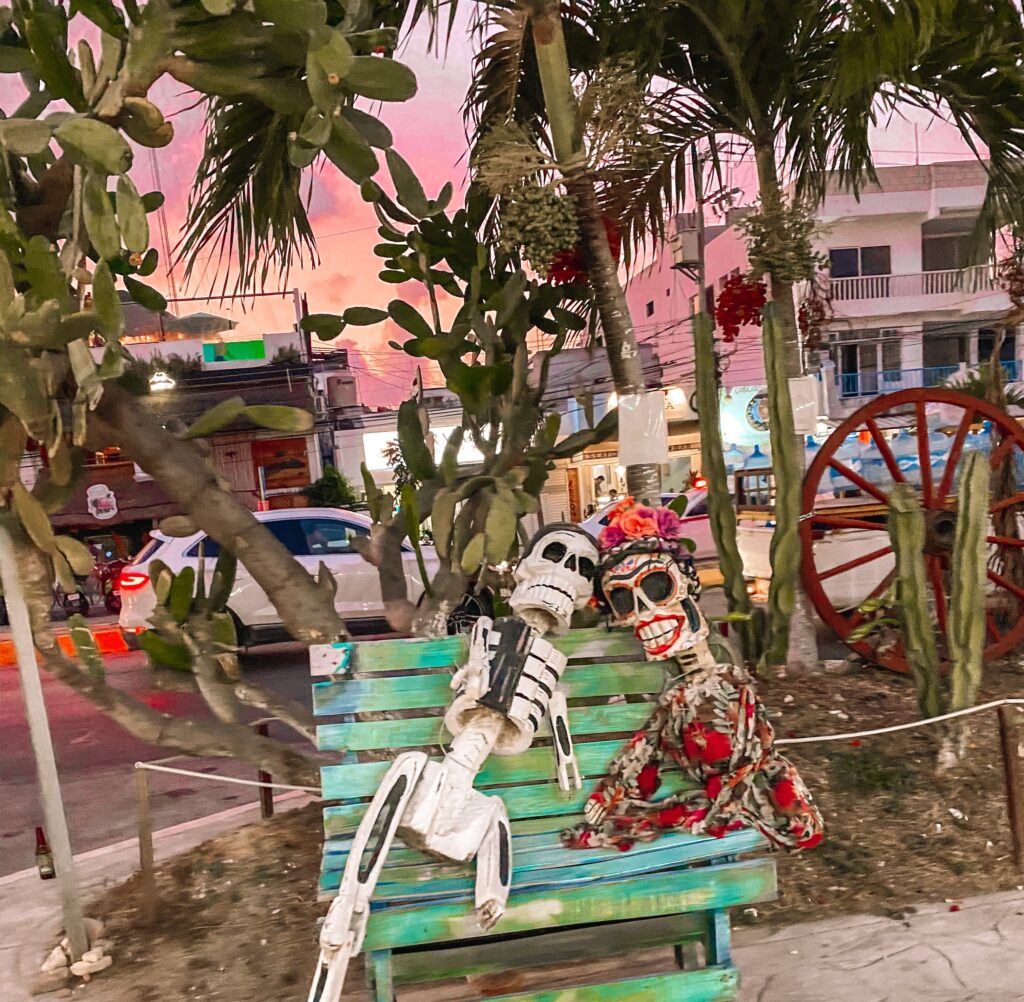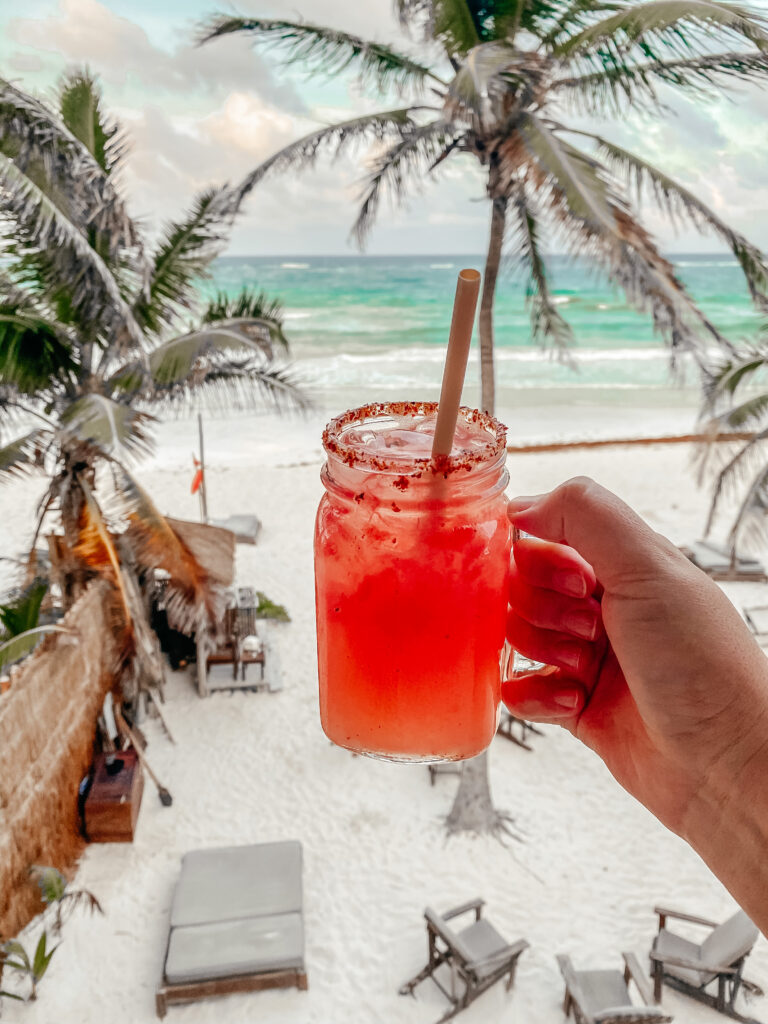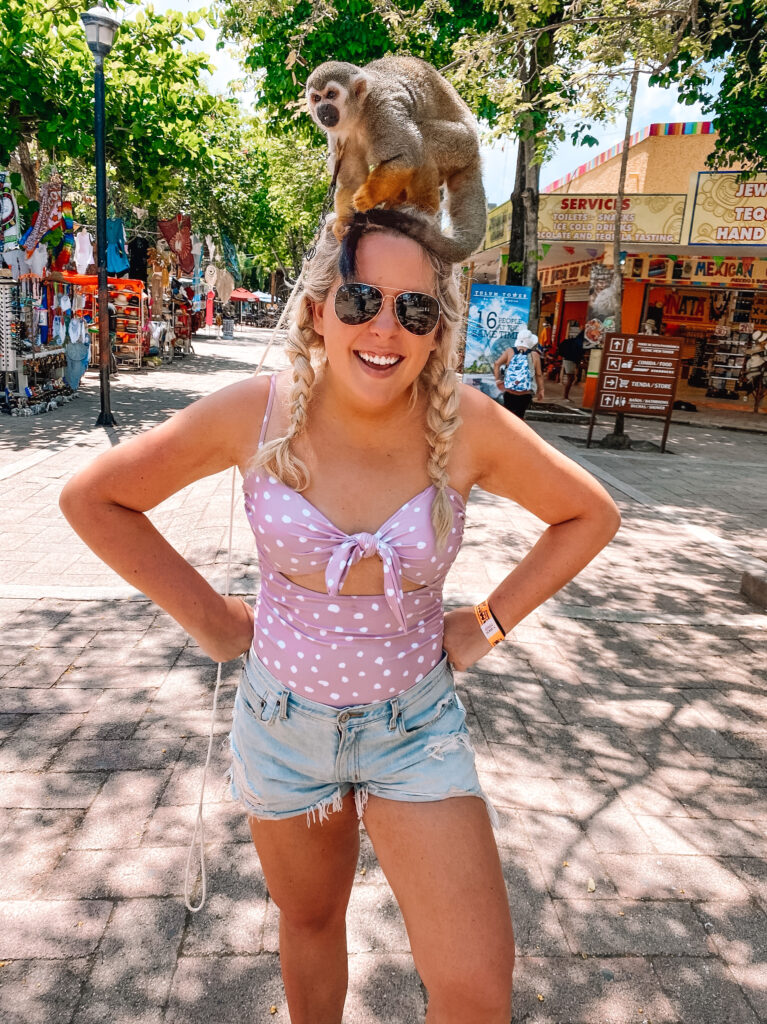 Hi there! We just got back from a short trip to Tulum Mexico so I wanted to share all about our trip while everything is fresh in my mind still. Now Tulum has become kind of famous thanks to bloggers, foodies, models and tourists in general over the last few years. My dad actually visited over 20 years ago and paints a very different picture of how Tulum was back then. I see Tulum still advertised as a small beach town when really I would consider this area (especially Tulum Beach) to be very busy.
We had a great trip but I would strongly suggest to anyone considering visiting Tulum to watch the documentary, The Dark Side of Tulum. Truth is overdevelopment and corruption is destroying Tulum's ecosystem. The impacts of mass construction and the town's rapid growth is jarring to learn about. Definitely not trying to discourage anyone from visiting Tulum but it's good to know what's happening in places you travel to!
SHOP MY SUITCASE

FAQs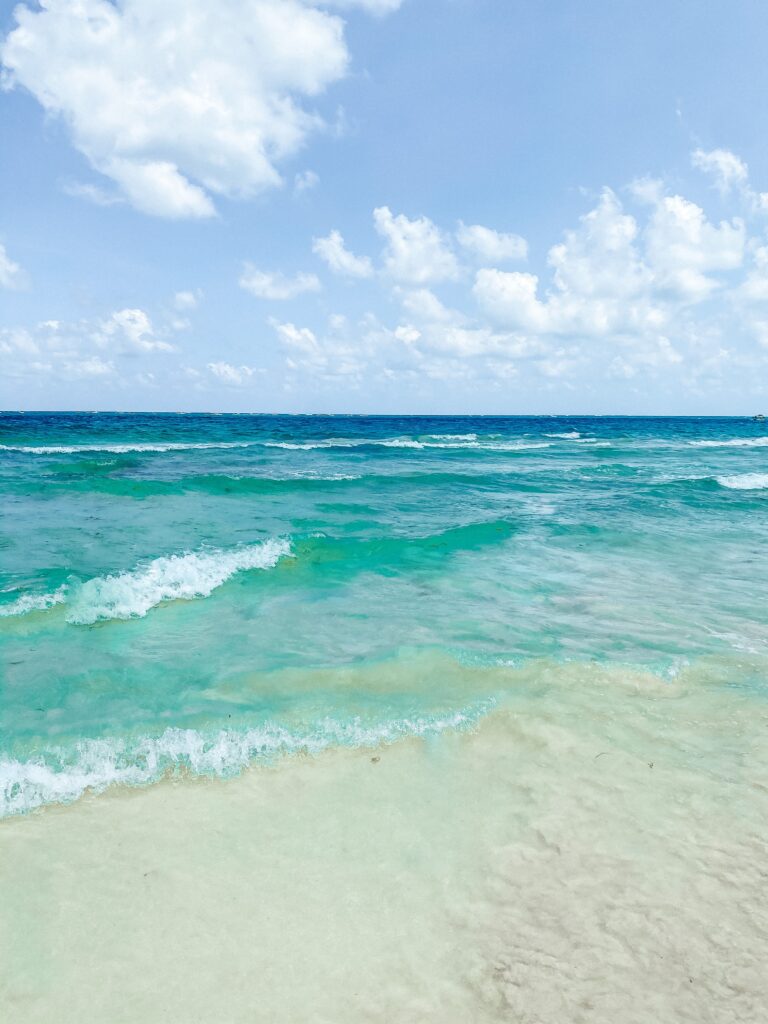 Tulum is on the Caribbean coastline of Mexico's Yucatán Peninsula and it's split into two main areas, the town and the beach. In town, you will get more of an authentic experience but still plenty of tourists and the beach is basically a boho dream when it comes to the shops, restaurants and hotels. I would say places near the beach are more expensive as well.
IS TULUM SAFE?
The simple answer, yes. We never felt unsafe in Tulum town or the beach area. I think it's just common sense to always be aware of your surroundings when traveling. Bad things can happen anywhere and while Tulum isn't totally crime free it is generally considered safe compared to a lot of Mexico.
IS THERE A SEAWEED PROBLEM?
There is seaweed in all of Mexico I think. It honestly didn't bother us and the resort we stayed at did a really good job trying to rake it up. There is really nothing you can do about it as it never stops flowing onto shore. I think Luke said he read about how it actually comes from Africa and Brazil. Who knows! But it didn't smell to us and we walked through it to swim and are alive and well.
HOW DO I GET TO TULUM?
We flew into Cancun and then rented a car to drive to Tulum. It's about an 1 hour and 45 minute drive from Cancun but pretty much a straight shot which makes it relatively easy. BEWARE there are so many car rental scams in the Cancun Airport, I would strongly advise you skip them all and rent with Easy Way whose office is located just a few minutes from the airport. They picked us up from the airport and drove us to their office to get our car. If you don't want to drive, there are private transportation services, taxis and buses that also can get you to Tulum. I will say it made easier having our own car when driving around the town but holy moly it's not ideal to drive in the middle of the day or at night near the beach because it is packed and almost impossible to park unless you have free parking. We literally didn't move our car when we got beachside.
WHERE DO I GET PESOS?
I would suggest waiting until Tulum to pull out any pesos or doing a money exchange. Typically the exchange rate is not very good at airports and we just used an ATM located inside a market in Tulum to pull out pesos. Also, I would double check places you plan on visiting such as restaurants because some may be cash only.
As a general PSA that you may already be aware of, there are people in Tulum that will walk up to you on the beach, in a restaurant, on the street offering to sell you all types of things (food, drinks, clothes, souvenirs, etc.) Tulum certainly isn't the only place where this happens but we would just say no thanks and they would move on.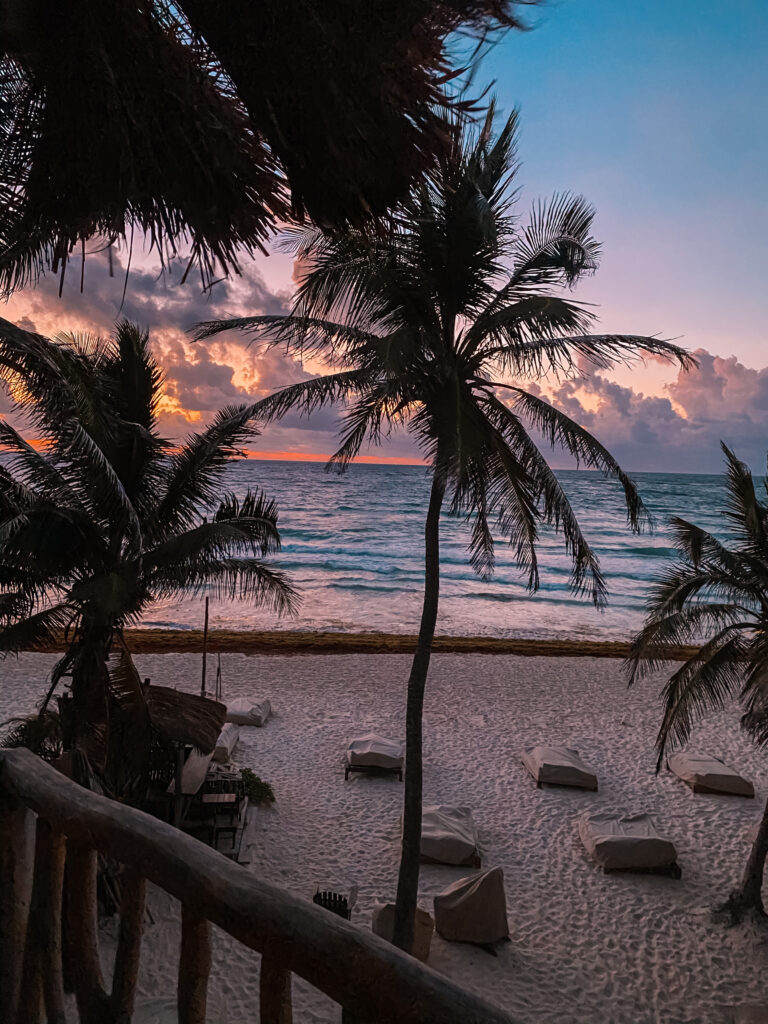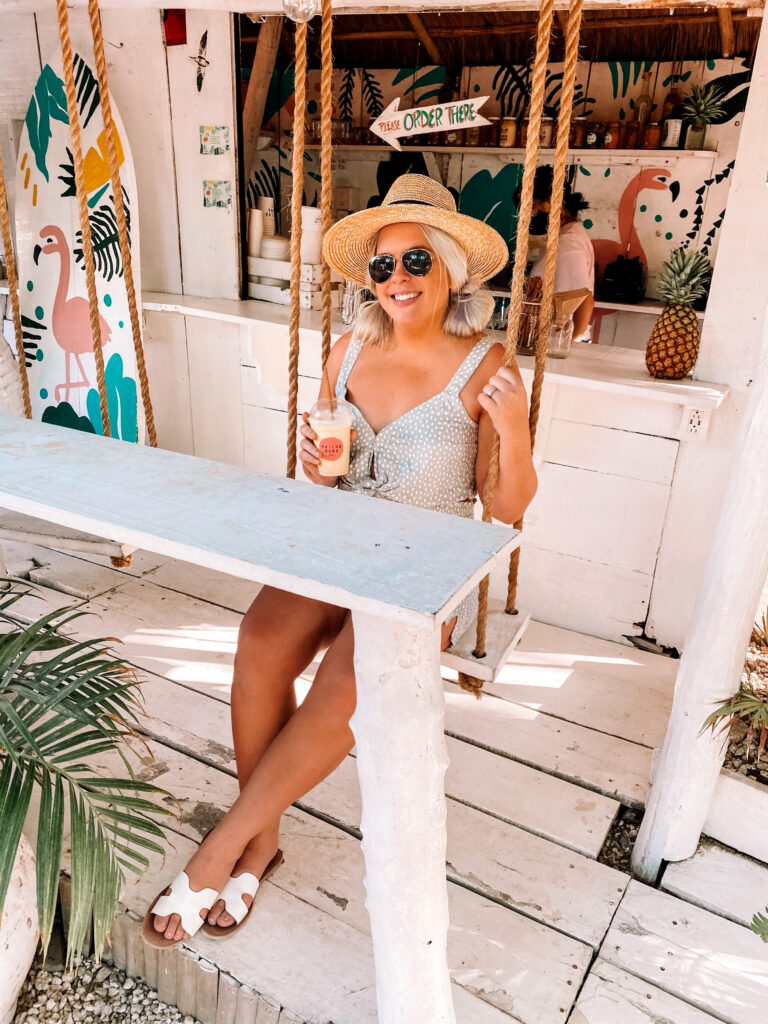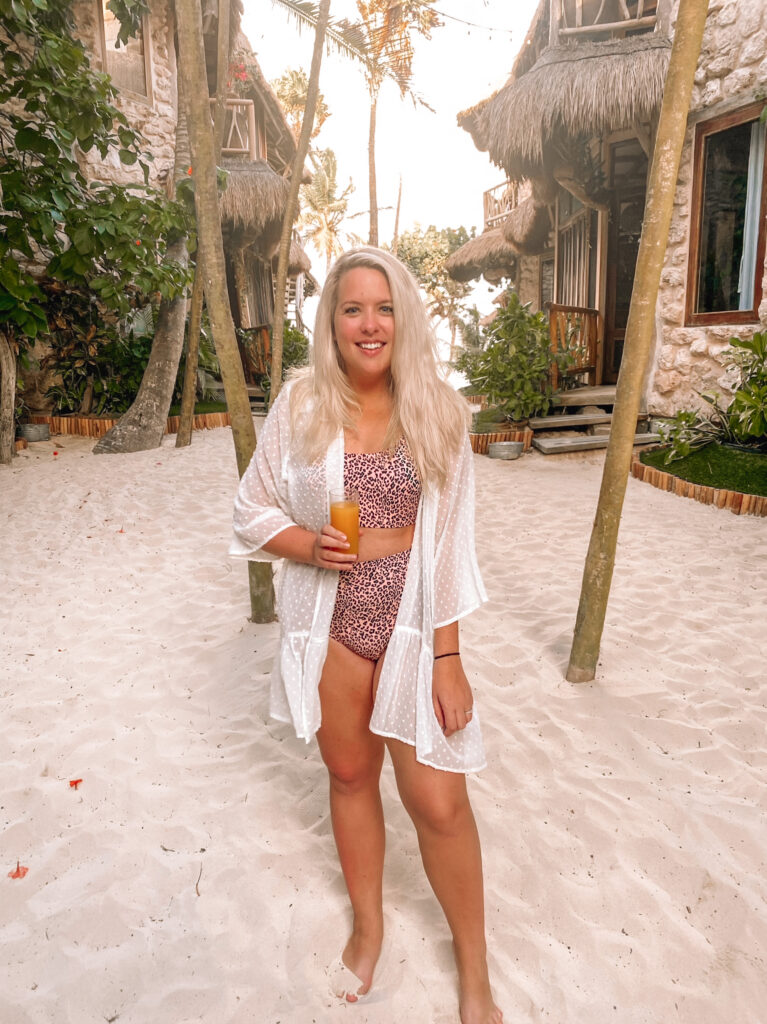 Since we wanted to split our time between Tulum beach and Tulum town we booked an Air B& B in town for two nights and stayed at a small resort on the beach for the other two nights! Honestly both of the places we stayed were incredible in their own ways and I would highly recommend them.
 For town, we stayed at Casa Panga. This place was truly like a work of art with the architecture and decor. It actually has 3 bedrooms too which was more space than we needed but great if you're looking for more space when visiting Tulum town. Another big reason why we booked this Air B & B was it's private pool and outdoor area in the back of the house! It felt amazing being able to jump in the pool to cool off and just relax. Our bedroom also  had A/C which was a big plus in our book because clearly Mexico can get hot!
The house also has a security wall around the whole place with an automatic gate so you can pull your car into to park if needed. We thought the location was great too because we walked around the corner both days for breakfast and walked to grab some drinks and guacamole at another nearby place. Casa Panga also comes with bikes to use free of charge if you want!
This resort was incredible! The entire grounds was so picturesque and the staff were outstanding. Alaya is perfect for those looking for a quiet oasis in the heart of Tulum's beach! We splurged for a Ocean Front King Room since we were there for only two nights and had the best view from our balcony and the room itself was paradise with a spa like bathroom and tree house feel. We absolutely loved sitting on our balcony at night too and even ordered breakfast one morning and ate there. It also offers A/C during the hours of  6:00 p.m. to 10:00 a.m. but honestly the sea breeze kept us quite comfortable.
When a guest, you have automatic access to their beach club which is where they have their beach loungers and umbrellas set up. Service on the beach was excellent and we really appreciated the staff for making it so magical. They even adjusted our umbrella for us without asking to block the sun better! Other important things to note is that they have 24 hour security who carried our bags from the car to the room and vice versa when we left at 6:00 a.m. (super helpful since we would have had to drag our bags across the sand). Alaya is pet friendly too (no additional charge)! We had a pup come lay under on umbrella by us to take a little break from the sun and we loved it. Finally, I wanted to note that they offer free parking but their parking lot was not marked and we had a slight struggle at first on finding it but its across from the hotel.


This is right around the corner from the Air B & B we stayed at. The first time we went I ordered some avocado toast that came with eggs on top and Luke ordered the same but with ham. I also got a green juice that was really good. The next morning, I got lox on toast with a coconut milk iced latte. All was good and make sure you bring cash (we used pesos) because I think it was cash only when we went!
EL MILAGRITO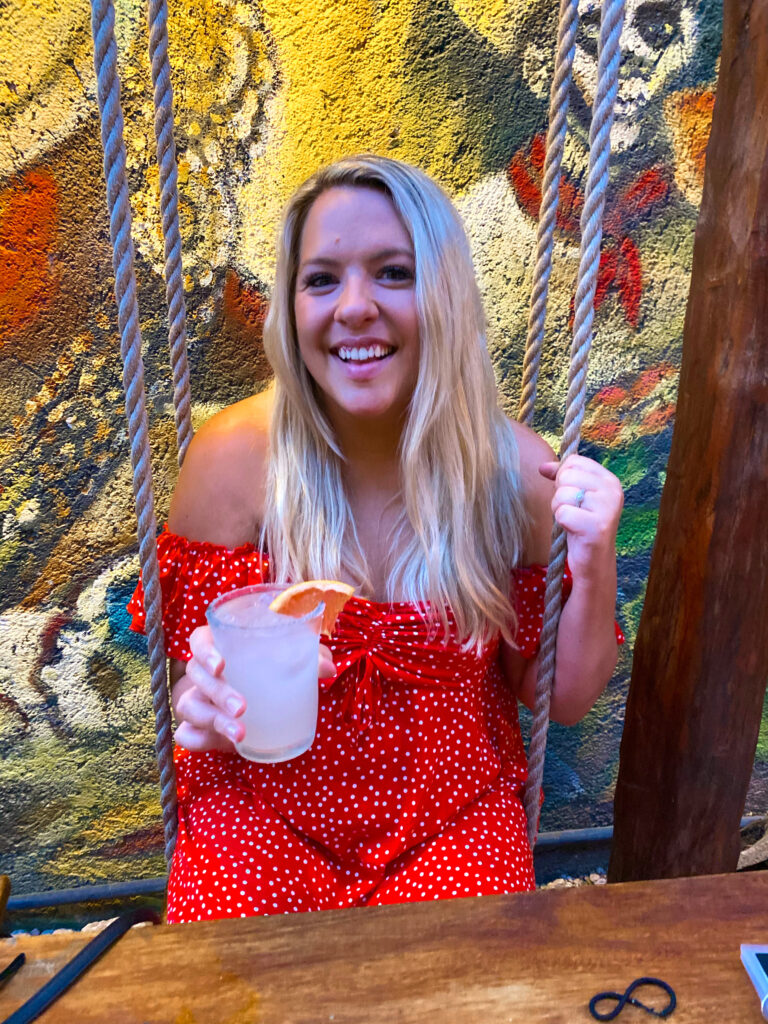 We ordered palomas from here and of course I had to sit on the swing! It's located on the same strip as Tropi Tacos which seems to be where a lot of action happens. It's a fun spot to people watch and enjoy a drink.
I think this place is kind of new but this is also walking distance from the Air B & B. It's a nice little boho inspired spot and we had delicious passion fruit margaritas and mango guacamole!
This is where we ate our first night and it has such a cool look with it's jungle printed walls and basket lights. We felt like it was a Mexican steakhouse so we both ordered steaks (didn't take a photo!) that were great and they gave us chips with a few different dips. Also, Luke loved his Mezcal margarita he got and would recommend it!
HUMO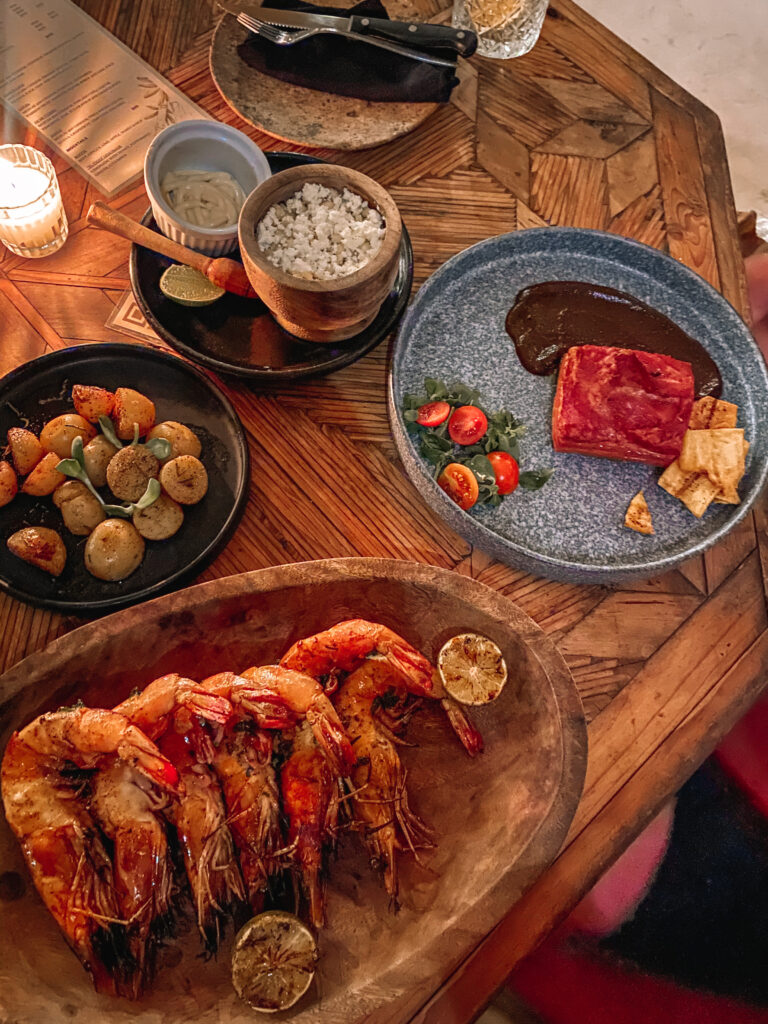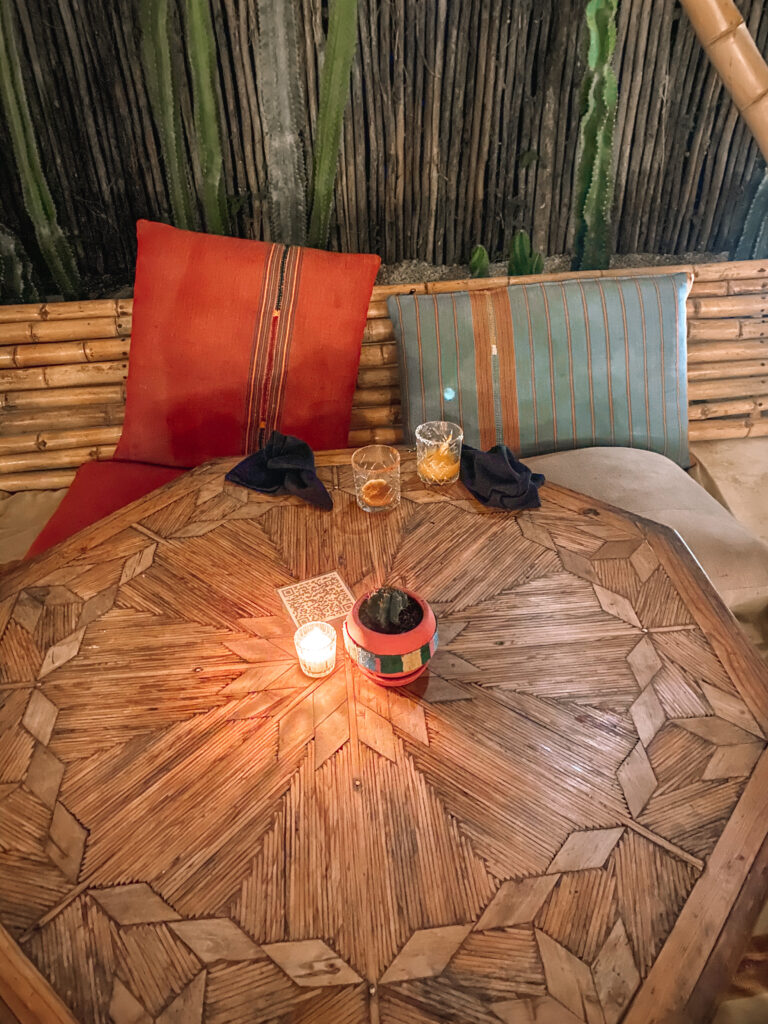 My favorite meal may have been from here. It was also two minutes away from our Air B & B! It has low tables with big floor cushions that we sat at inside a bamboo structure in addition to some more standard seating outside. We went for dinner and I ordered the shrimp and it was nothing short of amazing. Luke got the pork belly with mole sauce and it was very good too.
There are SO many options for food along Beach Road it is very overwhelming.  So good news is that you will definitely have somewhere to eat! Here is where we went:
If you have researched Tulum at all you have most likely come across this place. Known for their smoothies and acai smoothie bowls but also their very instagrammable swings. I'm happy to report that their smoothies are definitely worth the stop! I got the Mamacita smoothie which had matcha, banana, mango and almond milk plus peanut butter on top. 3 minute walk from Alaya. Yum!
LA ZEBRA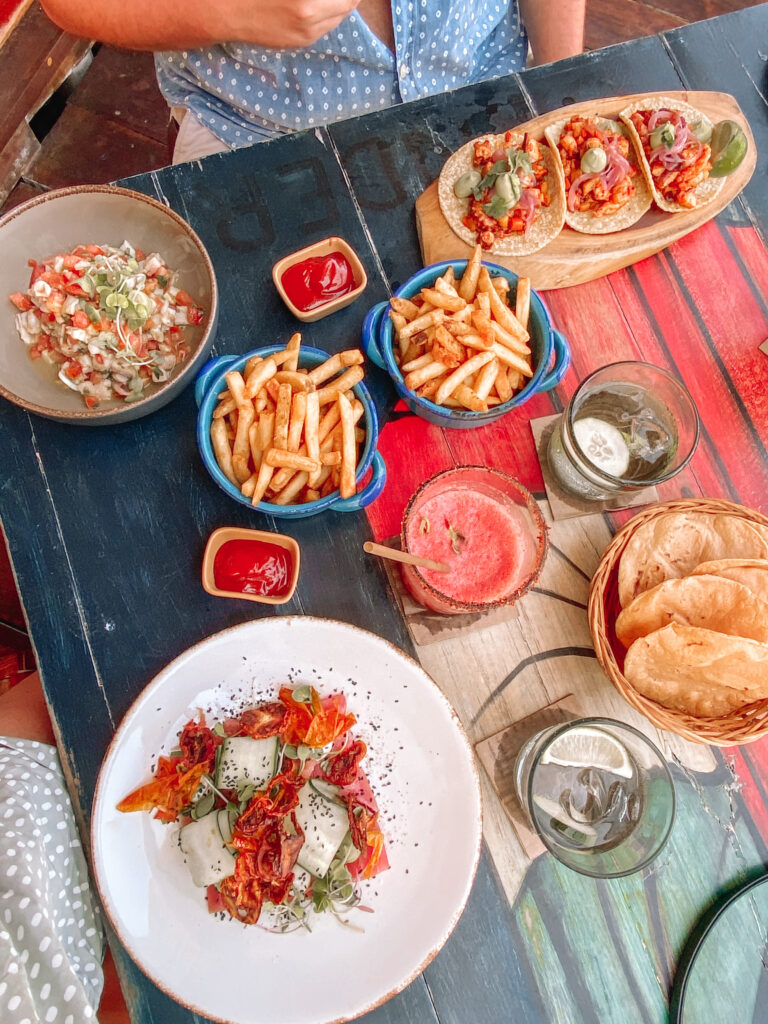 We didn't plan on going here but it was so close to our hotel so we just walked over on the beach for some lunch. Turns out they actually are one of the higher rated restaurants in the area and we definitely enjoyed our food and drinks! I got ceviche and some tuna while Luke got the octopus/shrimp tacos and we both ordered some fries. Of course margaritas too, strawberry and mango to be exact.  This is a part of a hotel so they have their own beach club too.
THE REAL COCONUT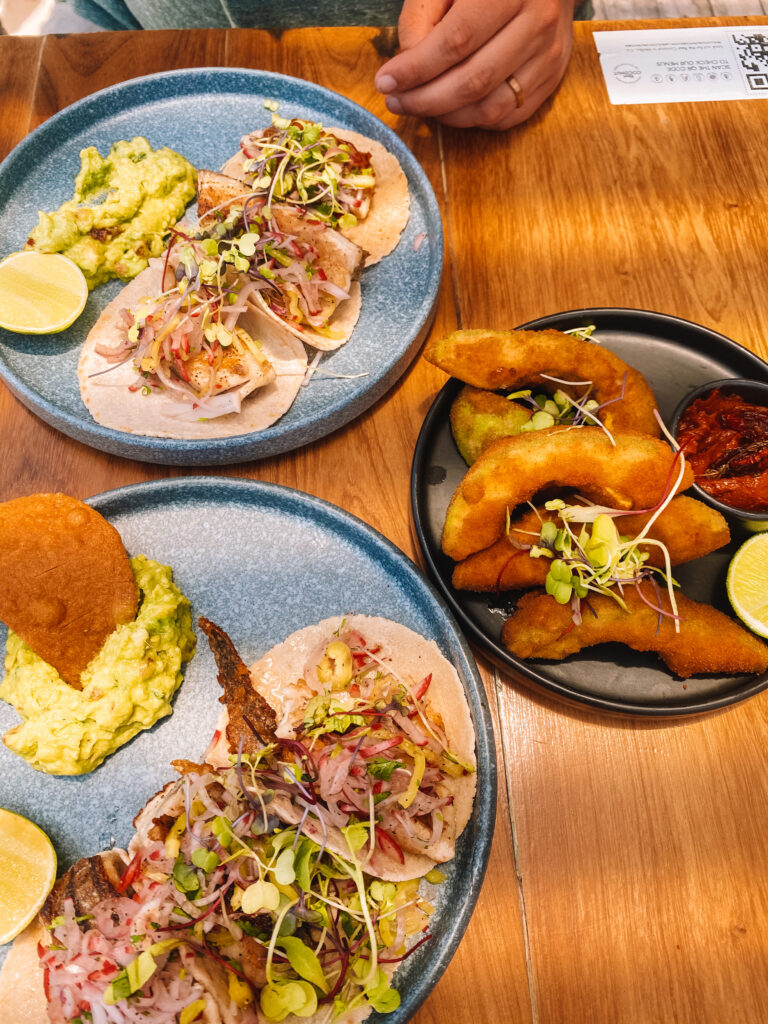 The spot is pretty well known along the beach! Their menu is plant focused, 100% gluten, grain and dairy free. Now I am definitely not a "healthy eater" by any means but our lunch was really yummy. We both got fish tacos and ordered some avocado fries to share. I suggest trying the Kaboo Honey cocktail! It's made with Mezcal Amores Cupreata, banana liquor, mango, passionfruit, lime juice and honey. Our hotel staff also mentioned how The Real Coconut is one of the few restaurants with a true beach front ocean view while dining. I'd suggest reaching out for a reservation if you want to go here.
CINCO BEACH CLUB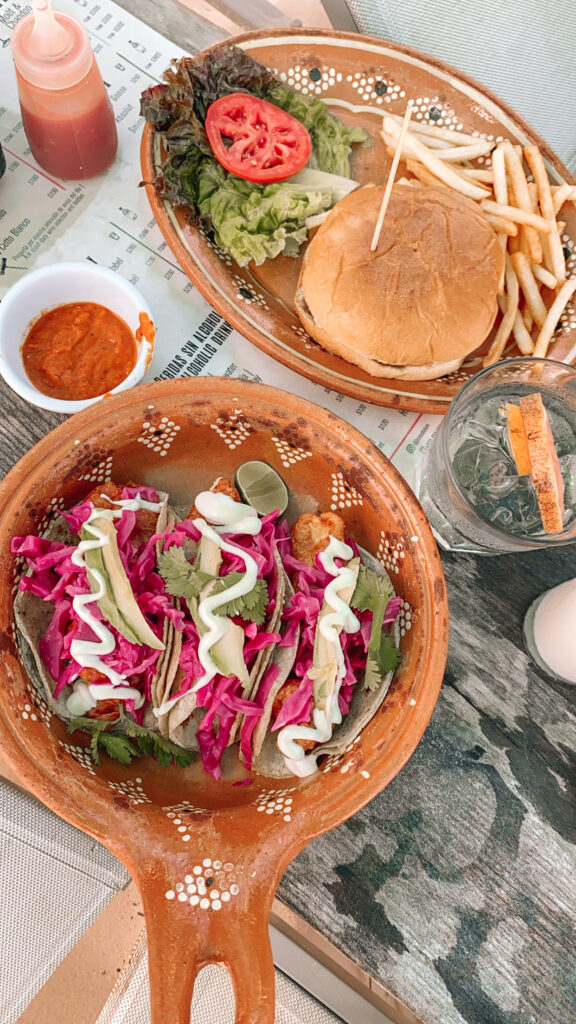 While researching Tulum we came across this place because we wanted to venture to Playa de Parasio. We ended up doing their beach club which was around $25 USD per person minimum consumption fee in order to sit in their area of beach with daybeds and an umbrella. They had fun music playing and we ordered lunch and drinks from the beach and they brought it out to us. The shrimp tacos were so good and Luke got a burger with fries! I also really liked their pina coladas. *I do want to mention we had made a reservation for their beach club weeks ahead of time and when we got there they seemed to not have our reservation but I told them the exact name who I emailed with and luckily we still got seats.*
We went here for dinner walked from Alaya which took about 10 minutes. It is nestled in the jungle and we actually had the whole place to ourselves! I think it may have been considered more along the lines of fine dining because the service was very elegant and the food was smaller portions but delicious. We split the grilled Octopus and the catch of the day which was sea bass. We also had great craft cocktails!
WILD TULUM
We took a taxi to get here because it was about a 15 minute walk from Alaya which may not seem that far but the humid jungle heat would have made walking miserable. We made a reservation for dinner and this place is also located jungle side which is a super cool setting but also make sure you wear some bug spray! We ordered sea bass (again! ha) and the shrimp and they were very tasty. Since it was our last night we also ordered the churros for dessert which had a amazing presentation with chocolate ganache. Our cocktails were both spicy, I had the Chipotle Pas! and Luke got the Wildfire which literally came out on fire!
CENOTES
A cenote is a natural pit, or sinkhole, resulting from the collapse of limestone bedrock that exposes groundwater. The ones around the Yucatan Peninsula were commonly used for water supplies by the ancient Maya, and occasionally for sacrificial offerings. Today, they are big tourist attractions because you can swim in them. We visited three different ones: Gran Cenote, Cenote Calavera and Corazon del Paraiso. Get there early or maybe end of day if you want to avoid crowds.
Gran cenote has some of the clearest and most beautiful water I've ever seen which makes this cenote the most popular one in the area! We got there at 8:00 a.m. when it opened and almost had the whole place to ourselves. You also have to rinse off at the site before entering the cenote to ensure you're not wearing anything that could harm the environment.  We also saw a turtle here!
Cenote Calavera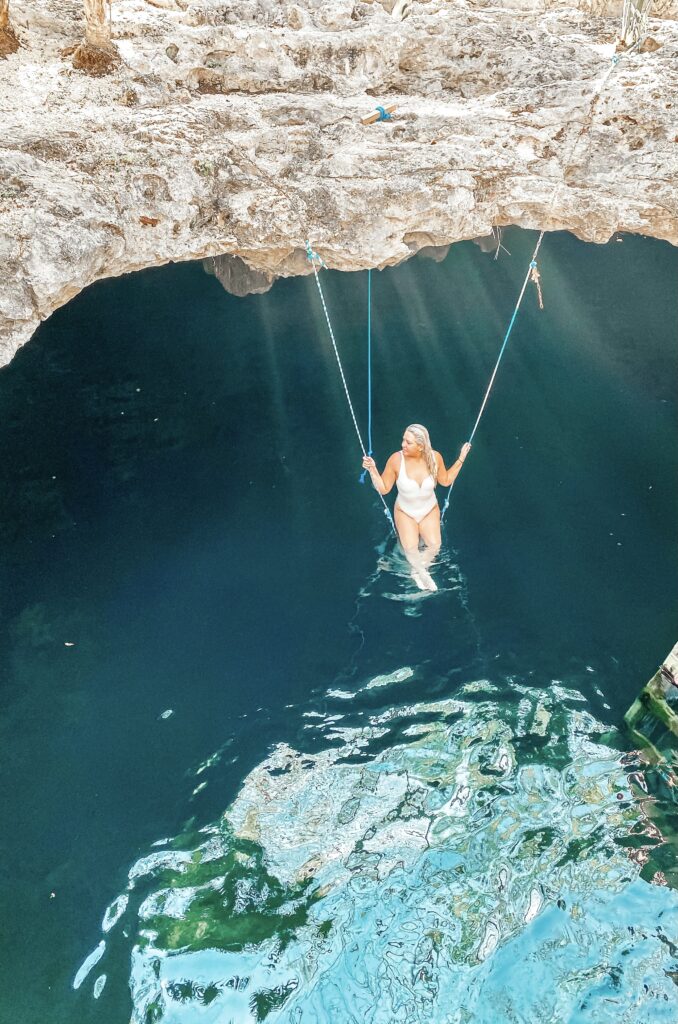 Cenote Calavera is literally less than five minutes away from Gran by car. This one has a ladder that you can use to climb in and out of the cenote and also a swing that sits in the water. I jumped off the cliff into the cenote and Luke jumped into one of the openings on top which looks scary because you're basically jumping into darkness but land in the water. A fun and adventurous cenote!
Corazón del Paraíso is a little off the beaten path, literally you drive down a dirt road through the jungle but totally worth it! It's almost lake like because its completely open and has multiple little docks and a platform you can jump off. This cenote was super peaceful and quiet with only one other couple there the whole time we were there. This is a great one to bring  your snorkel gear out to as there is lots of fish and color in the water.
Tulum Maya Ruins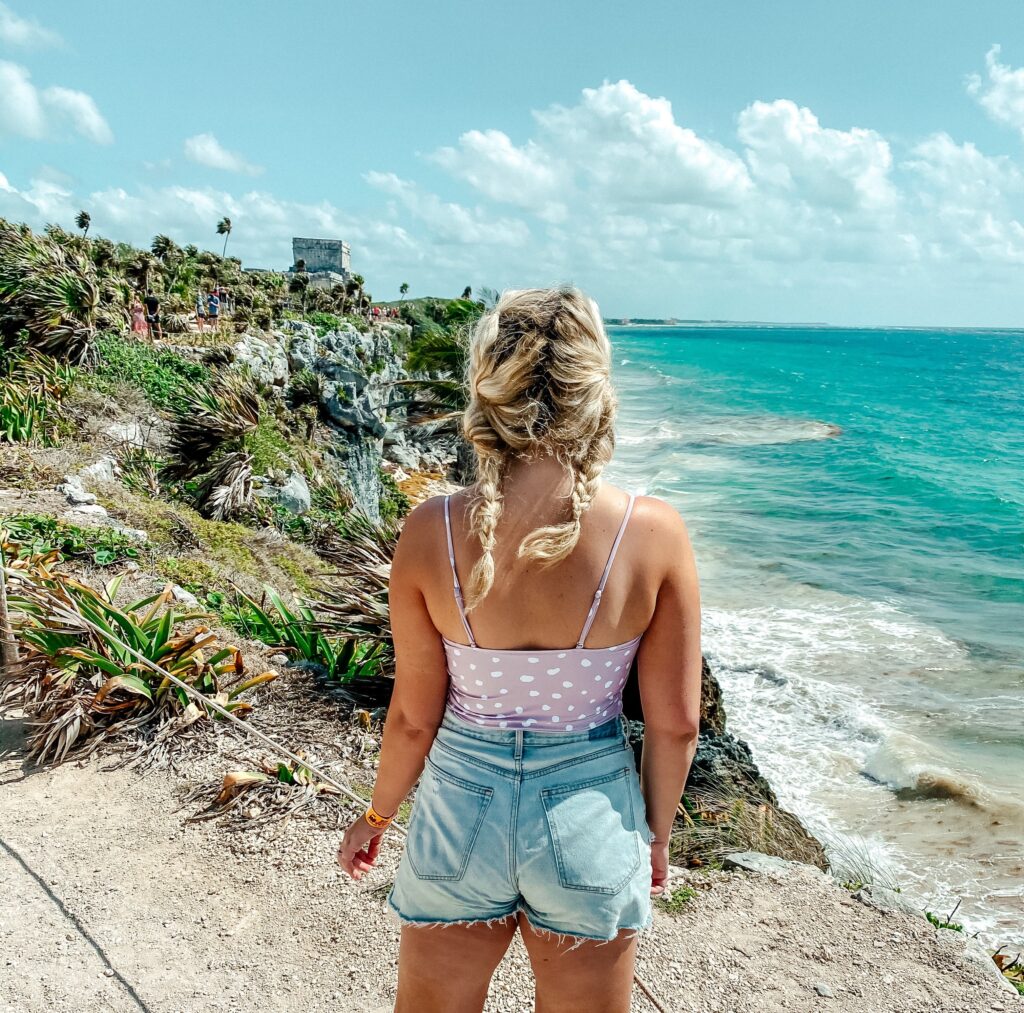 Obviously this is one of the main attractions in Tulum! We arrived at the ruins about 9:30 a.m. and there was a decent crowd already but not nearly the size crowd that the afternoon would have had. Keep in mind you can't drive directly up to the ruins as the road is closed but you can either park in a parking lot and walk (i think its about a 10-15 walk) or take the trolley up the ticket area. Tickets to the ruins are about $80 pesos and they had a sign saying how they don't have change to give if you but we actually got change back when we paid. After you get your tickets you walk on a slightly uphill path to get to the ruins and you are also able to lookout over the ocean which is beautiful. They have a very small beach where you usually can walk down the stairs to but it was closed when we went.
Tulum Beach Clubs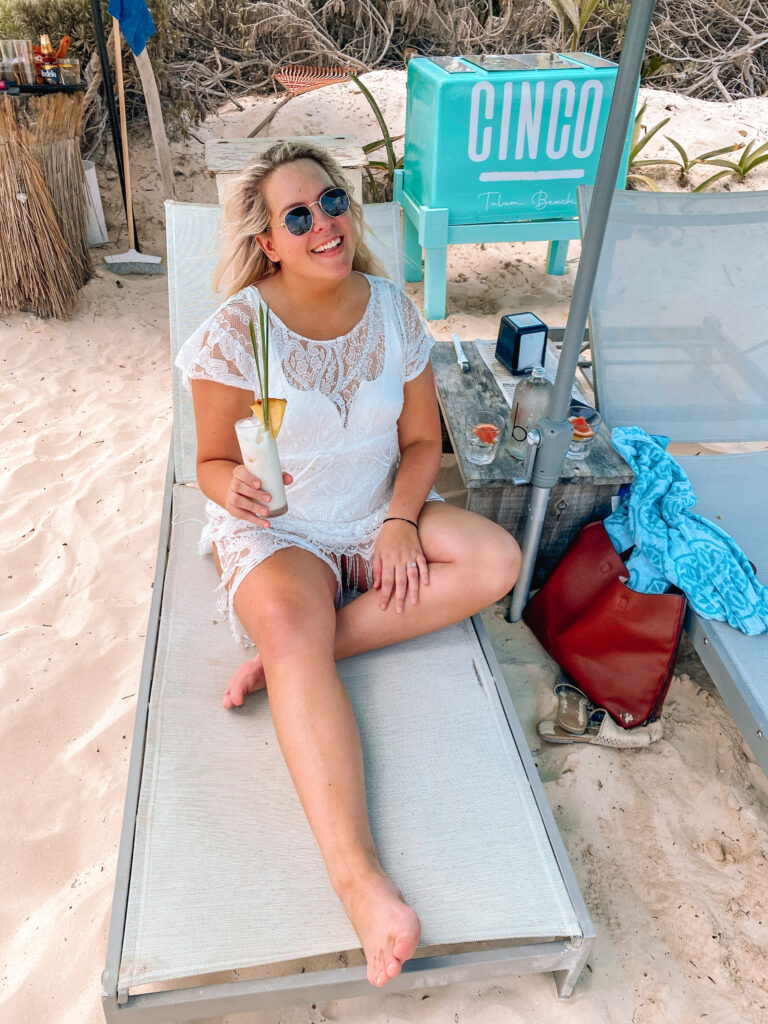 If you're going to Tulum, you are most likely heading to the beach at some point! While there are no private beaches technically in Tulum, it is difficult to access the beach without doing a beach club along the hotel zone. Beach club prices vary depending on the vibe you're going for but most have a minimum consumption fee ($25-$50+ per person) in order for you to access the beach. Good news is the beach clubs tend to offer a nice lounge area with umbrellas and it's nice to be catered to on the beach. Like I already said, we chose Cinco for an afternoon and had lunch brought to us while laying on the beach and Alaya had their own beach club we had access to since we were guests.
EXPLORE BEACH ROAD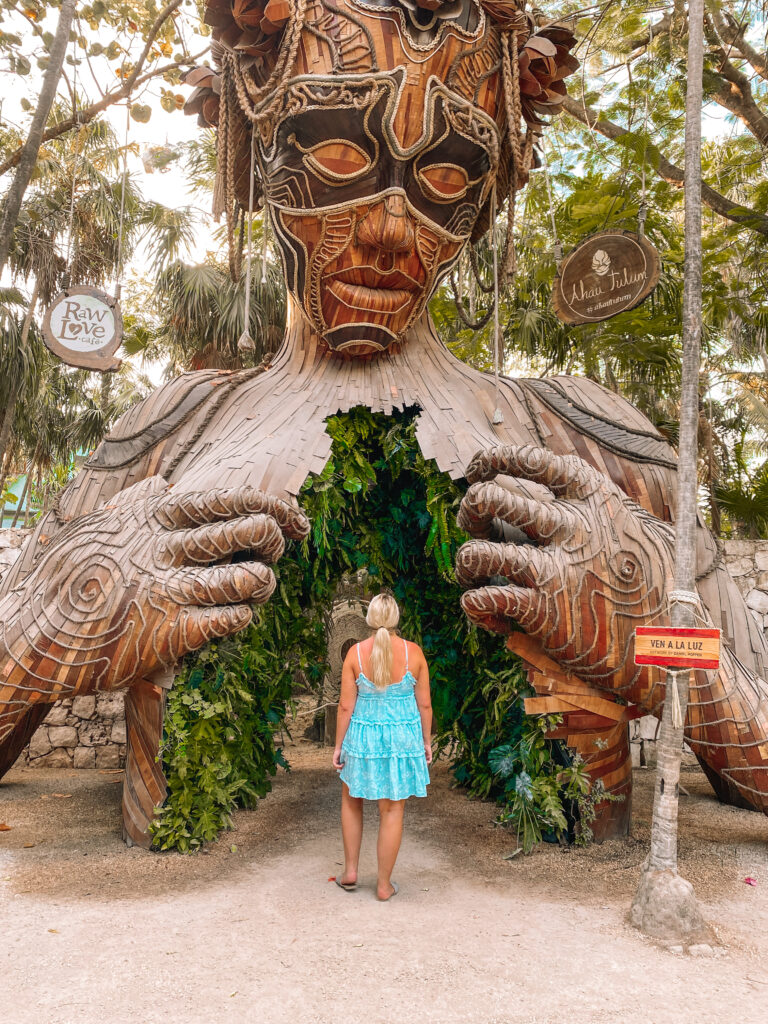 Now when we first heard about Beach Road, I pictured a cute little short road with a few shops and places to eat but OMG it is forever long and busting with so many places. This is when a bike or something would be helpful because you cannot walk down it in even a day I think ha! This road is very busy with cars, bikes and ATV's so be careful when walking. The famous massive art sculpture by Ven a La luz can be found on Beach Road permanently at the resort, Ahau Tulum. A great photo op! Once again, I'd go early to get a picture or you will most likely stand in line but I think it does go fast.
SHOP MY SUITCASE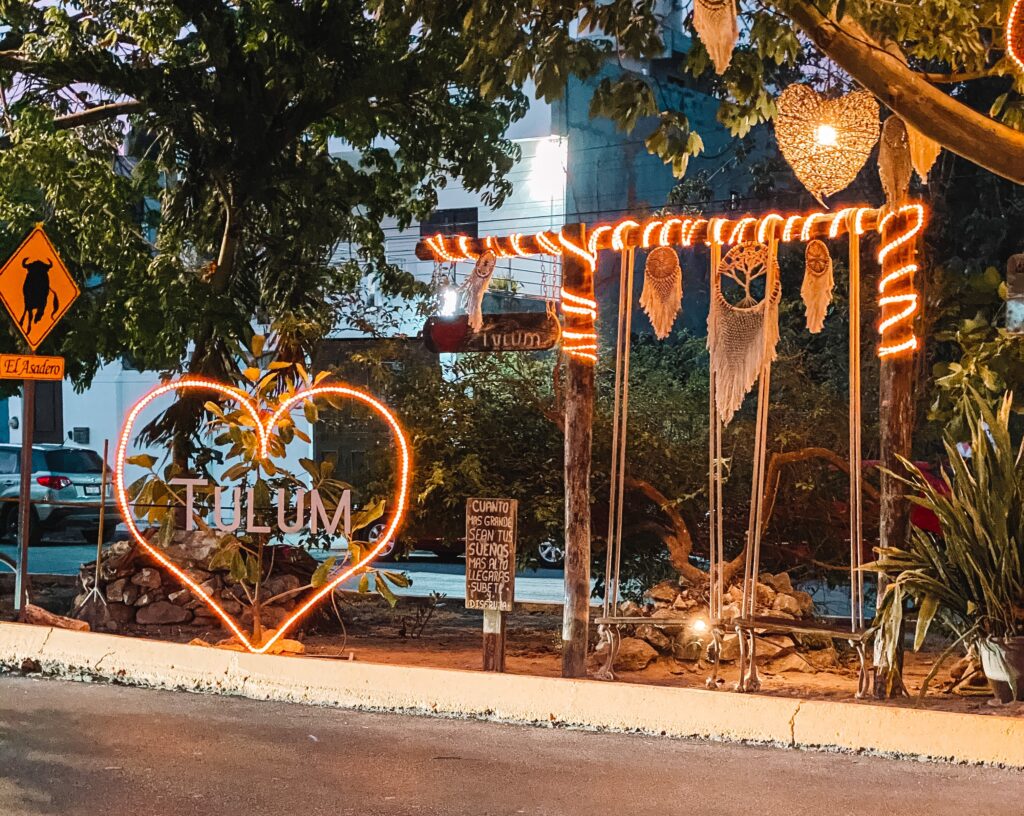 That's all I have! I hope you got some ideas if you're planning a trip to Tulum or some inspiration to maybe visit one day!