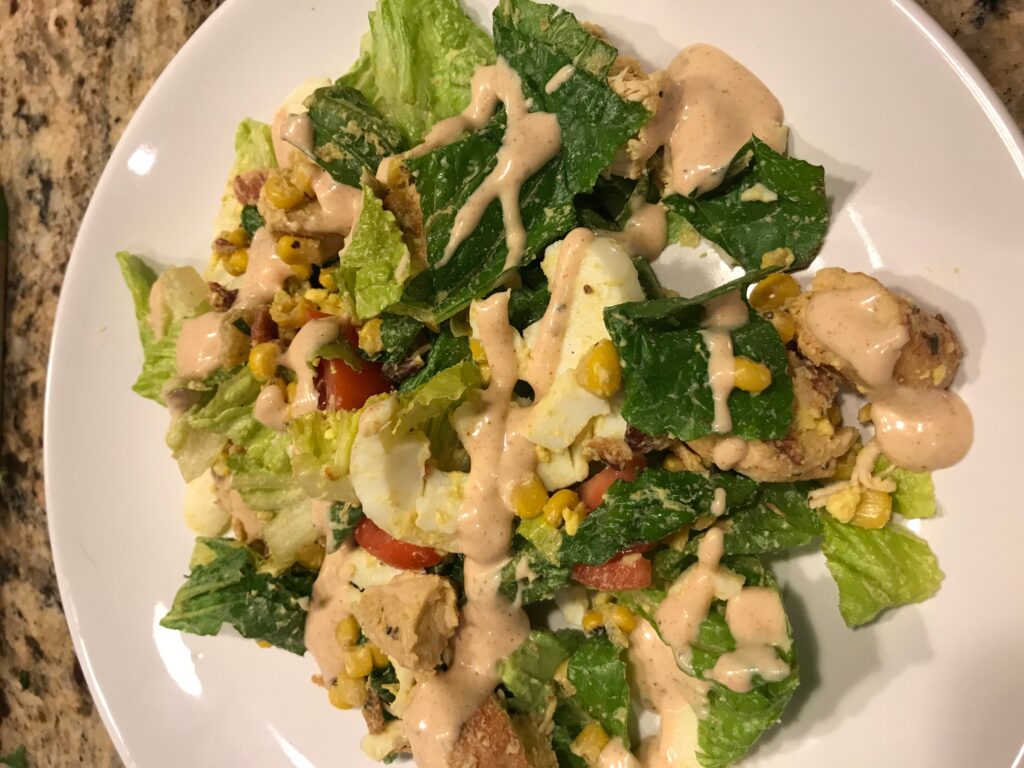 Instead of making New Year Resolutions this year I established goals because I honestly never end up keeping my resolutions. To me goals are things I can work towards. Resolutions seem like such a firm decision that needs to be put into effect immediatly. My eating habits pretty much fall into the middle of healthy and not so healthy. So one of my major goals this year is to not only eat healthier but really be aware of my lifestyle. This salad is EVERYTHING! It's from Chrissy Teigen's cookbook, Cravings. I have decided to eat a salad at least one night a week for dinner and this salad is definitely going to be repeated on the daily! (The recipe is slightly modified). 
Ingredients:
1 lb of chicken

1 1/2 teaspoons paprika

1 teaspoon kosher salt

3/4 teaspoon ground cumin

1/4 teaspoon thyme

1/4 teaspoon freshly ground black pepper

1/4 teaspoon cayenne pepper
1 (15-ounce) can corn kernels, drained and patted dry 
1 heart of romaine, chopped

1 cup cherry tomatoes, halved

1 large avocado, cubed

5 slices bacon, cooked and crumbled

4 hard-boiled eggs, chopped
Honey Mustard Ranch Dressing:
1/2 cup mayonnaise

1/4 cup buttermilk

2 tablespoons Dijon mustard

2 tablespoons honey

1/2 teaspoon dried oregano

1/2 teaspoon garlic powder
1/4 teaspoon onion powder

1/4 teaspoon paprika

Pinch of cayenne pepper

3/4 teaspoon kosher salt
1/2 teaspoon freshly ground black pepper
Preheat oven to 375 degrees And season chicken with spices and bake around 20 minutes. I used chicken tenderloins. I also cook the bacon in the oven, usually around 400 degrees for 10-15 minutes depending on your bacon. 
Pour the mayo, buttermilk, mustard, honey and spices into a mixing bowl. Whisk together and set aside. Chop tomato, avacado and lettuce. 
Place eggs in water so they're fully submerged and place on stove over medium-high heat. Once water is boiling, let eggs boil for 1 minute. Remove from heat and cover pot with eggs for 15 minutes. Tip: to make peeling your eggs easier place eggs in ice water for a few minutes. 
Combine all ingredients in a large bowl and toss with dressing!