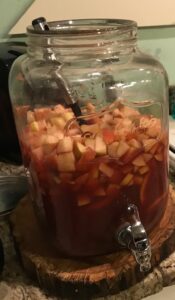 Every party needs a signature cocktail! This year my sister Lily made this Sangria for Friendsgiving. I have to warn you this Sangria is dangerously good, you can drink several glasses without even realizing it. This recipe makes a full dispenser worth.
Ingredients:
3 Bottles of Pinot Noir
10 Honeycrisp Apples
5 Oranges
8 Cinnamon Sticks
5 Lemons, Squeezed
1/2 Gallon of Orange Juice
1 Gallon of Apple Cider
Club Soda, to taste
Making Sangria is actually pretty simple because it's basically sliced fruit and wine. Pinot Noir was used for this particular batch but any light bodied Spanish variety red will work.
Simply slice your fruit and combine it with your wine (at least one day before you plan to drink it). Good things come to those who wait and if you wait and let the fruit and wine sit overtime you will have a delicious end product. Add your juice and club soda. NOTE: Cinnamon sticks are bound to clog a drink dispenser like pictured above but you can always remove them especially if you put them in the wine and fruit combination the night before you drink it.
Cheers!