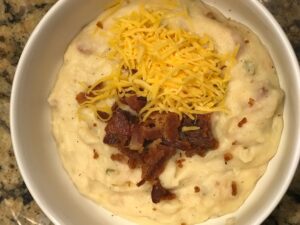 Ingredients:
5 lbs of russet potatoes
1 yellow onion
1 lb of bacon
small bag of cheddar cheese
4 1/2 cups of milk
1 1/2 of butter
1 spoonful of sour cream
salt, black pepper & red pepper to taste
Whats the best thing to do on a rainy Sunday? Make some soup! I decided on a loaded potato soup. I've actually never made potato soup before so I pulled some inspo from someone I know who makes a great potato soup (Luke's mom).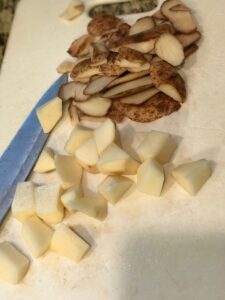 First up, peel those potatoes. Remember to wash them. Peeling potatoes can be daunting but with a peeler it shouldn't take any time at all. I actually realized I didn't own a peeler when I started so I used a large knife! Cut your tots into cubes (size can differ). Dice an onion. Place potatoes and onion into a large pot of boiling water for 15-20 minutes on medium-high heat.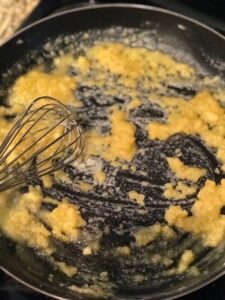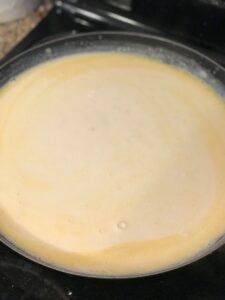 Next, start on your roux. This is used to help thicken the soup. It's simply equal parts of flour and butter. I would add your butter first, then flour and then add your milk and whisk till it's smooth over medium heat.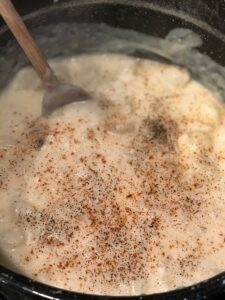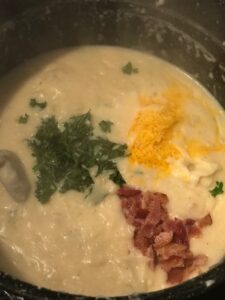 After draining your potatoes, add your roux to the pot and mix the potatoes in with a spoonful of sour cream. If you think your soup is too thick you can add some more milk. Add salt, black pepper & red pepper to taste. Add 2-3 pinches of crumbled bacon, cheddar cheese and parsley to your soup and mix it in. I would add even more bacon and cheese on top of your soup when you're ready to serve!
Your soup is ready now.